Colorado Snowmobiling
Pagosa Springs Snowmobile Trails
Trails start near Pagosa Springs at about 7,100' and can rise up to about 10,900'. Snowmobiling in the Pagosa Springs area is filled with many different environments; there are open meadows to play in to the east and steep climbs to various mountain peaks in the area. These mountains include Bear Mountain, Eagle Mountain, Blackhead Peak, and Wolf Creek Pass.
Trails include:
Masco Trail
First Fork Road
Mount Jack Trail
Toner Trail
Plumlaw-Four Mile Trail
Wolf Creek Trail
East Fork Trail
Mill Creek Road
Echo Canyon Road
Blue Creek Road
Blanco River Road
Lower Blanco Road
Turkey Springs Trail
Devil Mountain Road
Trails heading east of Pagosa Springs, such as Turkey Springs and Mount Jack, lead to Chimney Rock Archeological Site. These trails have more open meadows and are not as challenging as the steep climbs.
When the pioneers first came through this area, Wolf Creek Pass took 2-3 weeks to cross. Now, you can travel it in under an hour. On the north side of the pass, snowmobiles are asked to stay on the designated Lobo Road. However, the south side is recommended for off-trail snowmobiling.

Places to Stay & Fun Things to Do
Snowcountry Snowmobile Tours

Outdoor Family fun in Pagosa Springs, CO: Snowmobiling -- where the snow is plentiful, the scenery is sublime, and your guides are third generation outfitters! Ask about Horse Rides & Drop Camp Hunting.
More Activities & Information
---
---
Snowmobiling in Colorado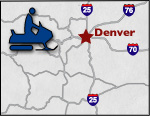 ---