Colorado Snowmobiling
Wolf Creek Snowmobile Trails
Not all towns appear on map. The publisher does not assume any responsibility for accuracy or completeness of maps. This information was compiled as accurately as possible.
Snowmobiling in the Wolf Creek Area is filled with many different environments. You can experience open meadow riding and play areas, and then travel the steep climb up to timberline riding and hill climbing. You will travel through areas of the San Juan National and see incredible views of the San Juan Mountains. Eagle Mountain, rising 12,007 feet and Blackhead Peak, at 12,500 feet can be seen from the trails.
Located in "hairpin country and switchback city," Wolf Creek pass brings you to an elevation of 10,850 feet as it travels from South Fork in the north to Pagosa Springs. The pass was made famous with C.W. McCall's country song "Wolf Creek Pass." When the pioneers first came through this area, the pass took two to three weeks to cross, and every spring the trail needed to be remade. Even when cars first started driving the pass, it still took two days to a week to cross the 42 mile pass. Now you can travel it in under an hour.
The pass is an excellent place for snowmobiling. On the north side of the pass, snowmobiles are asked to use the east section of the parking area, and to stay on the designated Lobo Road. However, the south side is recommended for off-trail snowmobiling.
More Activities & Information
---
---
Snowmobiling in Colorado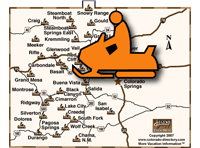 ---