Colorado Weddings & Elopements
Planning Your Colorado Wedding Ceremony, Romantic Elopement, or Mountain Reception Advice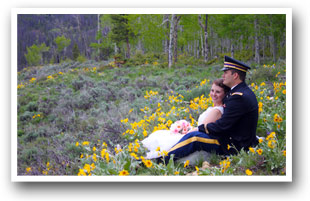 Whatever your desire, Colorado is full of resorts, hotels and businesses that are ready to cater to your every need. Planning a large wedding for all your family and friends? Fill out a Colorado wedding information request form and get ready to receive information on reception halls, lodging and fun things to do. While you're at it, extend your stay and plan a family reunion around your wedding. Visit planning a Colorado family reunion for more information.
If you're more interested in spending time as a couple than sightseeing with Aunt Midge, check out the Colorado "Romance" listings. Avoid losing sleep over what to serve at the rehearsal dinner and enjoy a stress-free elopement in a romantic mountain lodge.
Weddings in Rocky Mountain National Park
Wedding ceremonies are permitted in RMNP. A non-refundable administrative fee of $150 is charged for a Special Use Permit. The normal entrance fees are collected when entering RMNP for a wedding. Carpooling in encouraged. Wedding ceremonies in the Park require prior written approval from the Chief Ranger's Office. The forms are available online at www.nps.gov.
COLORADO MARRIAGE LICENSES
Colorado makes getting a marriage license easy, another great reason to have your wedding here.
Marriage licenses can be obtained at any county clerk and recorder's office in the state. In order to get one, you will need to bring a government-issued ID, such as a driver's license, passport, visa, or state or military ID card. If you are divorced or widowed, Colorado law requires that you present a certified copy of your divorce decree or a copy of your deceased spouse's death certificate.
Most marriage licenses cost ~$30, but the cost can vary from county to county. Also, some county offices will only take cash, so it's best to have some on hand. Call ahead to be sure. Licenses are issued immediately after application, with no waiting period, so you can get to the altar as quickly as possible.
You don't have to be a citizen of Colorado to get a marriage license, but you do have to be 18 years old. Younger couples must have the consent of both parents or guardians or judicial approval. Those younger than 16 must have parental consent and a Judicial Court Order. Same-sex marriages are now legal in Colorado.
Couples may solemnize their own marriage after filling out the proper paperwork at the county clerk's office, but family members and friends may not officiate. Out-of-state clergy members need not be registered in Colorado in order to preside over a ceremony.
Once you have your license, make sure you use it quickly - it expires after 35 days.
WEDDING PREPARATION CHECKLIST
To make the most of your Colorado wedding, start planning early. Follow the timeline below to help the event run as smoothly as possible.
You're engaged! Now what?
Tell your family and friends.
Start your guest list.
Draw up a budget and decide who will pay for what.
Decide on a theme and a time. Big or small? Winter or summer? Have a few backup dates in mind, too.
Choose your wedding and reception sites and book them now! Make sure you're able to have your wedding where and when you want it.
Choose bridesmaids, groomsmen, and who you would like to perform the ceremony.
Start meeting with a wedding planner and/or florists, caterers and musicians.
8-10 months before...
Buy a wedding dress and bridesmaid dresses.
Choose and book a caterer, a florist, a photographer and musicians.
Plan your honeymoon! Visit the Colorado "Romance" page to find the perfect Colorado getaway for you and your new spouse.
4-6 months before...
Register for gifts and purchase wedding rings.
Arrange transportation.
Purchase or rent outfits for groom and groomsmen.
Book accommodations for guests. Fill out the Colorado group request form to get information about places to stay and fun things to do near the location of the ceremony.
Just a few months to go...
Meet with your caterer, photographer, florist and officiant to make sure everything is still on track.
Send out invitations and wedding announcements for the newspaper.
Schedule your wedding rehearsal and rehearsal dinner.
It's almost time...
Apply for your marriage license.
Give your caterer a final headcount on who's attending.
The Big Day!
And remember, even if your wedding doesn't go off without a hitch - and it probably won't - don't worry. A wedding is just one day; your marriage is a lifetime.