Colorado Fun Facts
Colorado State Facts
Capital: Denver
Flower: Rocky Mountain Columbine
Tree: Blue Spruce
Grass: Blue Grama Grass
Animal: Big Horn Sheep
Fish: Greenback Cut-throat Trout
Insect: Colorado Hairstreak Butterfly
Bird: Lark Bunting
Fossil/Dinosaur: Stegosaurus
Gemstone: Aquamarine
Rock: Yule Marble
Mineral: Rhodochrosite
Soil: Seitz
Colors: Blue and White
Dance: Square Dancing
Nickname: The Centennial State
Statehood: 1876 - 38th
Song: "Where the Columbines Grow" by A.J. Flynn
Motto: "Nothing without Providence"
Area: 104,247 square miles
Governor: Jared Polis
Flag:

Interesting Dates
Anasazi's inhabited Mesa Verde in C.E. 1000-1300
Between 1763 and 1848, Colorado belonged in varying proportions to France, Spain, Mexico and the Republic of Texas
Gold discovered in Idaho Springs (near Denver) on January 7, 1859
On February 28, 1861, when Colorado Territory was created, the present boundaries were established and have remained unchanged to the present time
Women received the right to vote in 1893
1st U.S. gold and silver coins minted at the Denver Mint in 1906
Mesa Verde National Park - First national park in Colorado, established on June 29, 1906
First designated scenic byways in 1989 - Alpine Loop, San Juan Skyway, Goldbelt Tour, Highway of Legends, Peak to Peak
Black Canyon of the Gunnison National Park designation in 1999
Colorado Sports Teams
Football: Denver Broncos - Back-to-back Super Bowl XXXI-XXXII & Super Bowl 50 champs
Baseball: Colorado Rockies - The first National League Team Wildcard to go to the playoffs in 1995
Hockey: Colorado Avalanche - 1996, 2001 & 2022 Stanley Cup Winners
Basketball: Denver Nuggets
Soccer: Colorado Rapids - 2010 MLS Championship Cup Winners
Lacrosse: Colorado Mammoth - 2006 Champion's Cup & 2022 National Lacrosse League Cup Winners
Colorado Trivia
General Trivia
Colorado means "color red."
Colorado's southwest corner borders Arizona, New Mexico and Utah, the only place in America where the corners of four states meet.
Colorado is the only state in history to turn down the Olympics. Denver was supposed to host the 1976 Olympics. 62% of all state voters chose at almost the last minute not to host the Olympics, because of the cost, pollution and population boom it would have on the State of Colorado and the City of Denver.
Colorado has more microbreweries per capita than any other state.
About Our Towns
The United States Air Force Academy is located in Colorado Springs.
The world's largest flattop mountain is in Grand Mesa.
In Fruita, the town folk celebrate "Mike the Headless Chicken Day." Seems that a farmer named L.A. Olsen cut off Mike's head on September 10, 1945 in anticipation of a chicken dinner - and Mike lived for another 4 years without a head.
The Durango and Silverton Narrow Gauge Railroad has been in continuous operation since 1881. The line was constructed primarily to haul mine ores, both gold and silver, from the San Juan Mountains. The Railroad continues to provide year round train service and has appeared in more than a dozen movies including "How the West was Won" (1963) and "Butch Cassidy and the Sundance Kid" (1969).
Leadville is the highest incorporated city in the United States at 10,430 ft. above sea level. Because there was lots of "silver" named towns at the time, the founding fathers suggested Leadville.
Hundreds of thousands of valentines are re-mailed each year from Loveland.
Fountain has the distinction of being the United States' millennium city because it best symbolizes the overall composition of America. Fountain is the most accurate representation of the American "melting pot." Fountain was chosen after a Queens College sociologist crunched Census Bureau statistics in an effort to find the one city in the country that best represented the population make-up of the United States.
Pueblo is the only city in American with four living recipients of the Medal of Honor.
Dove Creek is the "Pinto Bean" capital of the World.
The world's first rodeo was held on July 4th, 1869 in Deer Trail.
The aptly named town of Twin Lakes lays adjacent to two natural lakes at the foot of Colorado's highest fourteener, Mt. Elbert.
Rocky Ford has been dubbed the "Melon Capital of the World."
The world's largest natural hot springs pool covers 2 blocks in Glenwood Springs.
About Denver
Denver has the largest urban park system in the nation with 250 parks along with off street trails, historic parkways within the larger Denver Metro area and Denver Mountain Parks System contains more than 14,000 acres of parklands in the mountains and foothills of Jefferson, Clear Creek, Douglas, and Grand counties in Colorado, west and south of Denver.
"Beulah Red" is the name of the red marble that gives the Colorado State Capital its distinctive splendor. Cutting, polishing, and installing the marble in the Capital took six years, from 1894 to 1900. All of the "Beulah Red" marble in the world went into the Capital. It cannot be replaced, at any price.
The 13th step of the state capital building in Denver is exactly 1 mile high above sea level.
The "LoDo" region of Denver stands for Lower Downtown.
Denver lays claim to the invention of the Cheeseburger. The trademark for the name Cheeseburger was awarded in 1935 to Louis Ballast.
Colfax Avenue in Denver is the longest continuous street in America.
The tallest building in Colorado is the Republic Plaza at 57 stories high, in Denver.
Every year Denver hosts The World's largest Rodeo, the National Western Stock Show.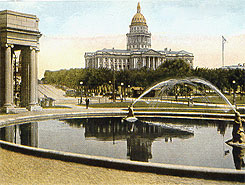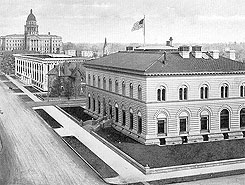 Our Mountains
Colorado has the highest average altitude of all the states.
Colorado contains 75% of the land area of the U.S. with an altitude over 10,000 feet.
The Colorado Rockies are part of the North American Cordillera, which stretches 3,000 miles from Alaska, through western Canada and the United States, into northern Mexico. The centerpieces of this dramatic uplift are the peaks over 14,000 feet, or "Fourteeners," as they are affectionately named by climbers. There are 52 Fourteeners in Colorado.
The highest paved road in North America is the road to Mt. Evans off of I-70 from Idaho Springs. The road climbs up to 14,258 feet above sea level.
At 14,110 feet above sea level, over 400,000 people ascend Pikes Peak each year.
The Eisenhower-Johnson Memorial Tunnel is the highest 4-lane vehicular tunnel in the World with a speed limit of 50mph at an average elevation of 11,112 feet as it crosses the Continental Divide between between Clear Creek & Summit County along I70; and it's the 4th longest Tunnel in the USA at 1.7 miles. The average daily traffic exceeds 26,000 vehicles. On March 8, 2023 the tunnel celebrated connecting Colorado's east and west slopes for 50 Years. Westbound Eisenhower Memorial Bore took 5 years to complete and was dedicated March 8, 1973. It served both directions of traffic until the Johnson Bore was dedicated on December 21, 1979.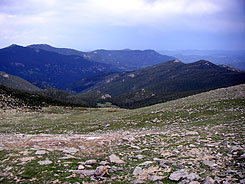 Colorado Parks, Forests, and Wildlife
The United States Federal Government owns more than 1/3 of the land (15 million acres) in Colorado.
The Bureau of Land Management controls more than 8 million acres of public land.
The Colorado Division of Wildlife manages more than 250 public areas for hunting and fishing.
Of the 113 species of wildlife classified as sport game in Colorado, 105 are considered small game.
Colorado has 222 state wildlife areas.
Abundant nesting and migrating birds and other native animals provide a "world-class" watchable wildlife experience. Bald eagles and other raptors, sand hill cranes, shore birds and water birds can be seen seasonally at San Luis Lakes near Alamosa. Colorado is second in the nation for variety of birds.
The Yampa River below the northwest town of Craig holds northern pike in the 20-pound range, while the Roaring Fork and Frying Pan rivers are prime spots for trout fishing.
There are nearly 20 rivers whose headwaters begin in Colorado, with the Continental Divide directing each river's course. Colorado is the mother of rivers.
Last year, the Division of Wildlife registered 46,000 off-highway vehicles to residents and about 7,000 to non-residents. That number grows by 20% each year.
There are 15 national forests within the state of Colorado, 42 state parks, 4 national parks, 8 national monuments and 2 national grasslands .
The tallest sand dune in America is in Great Sand Dunes National Park outside of Alamosa. This bizarre 46,000-acre landscape of 700-foot sand peaks was the creation of ocean waters and wind more than one million years ago.
Mesa Verde features an elaborate four-story city carved in the cliffs by the Ancestral Pueblo people between 600 and 1300 A.D. The mystery surrounding this ancient cultural landmark is the sudden disappearance of the thousand of inhabitants who created the more than 4,000 identified structures.
The highest suspension bridge in the world is over the Royal Gorge near Canon City. The Royal Gorge Bridge spans the Arkansas River at a height of 1,053 feet.
Florissant Fossil Beds National Monument near Cripple Creek is a lesson in history set in the one-time shadow of the Guffey Volcano. The Volcano erupted millions of years ago, creating fossils and leaving the valley filled with the petrified trees.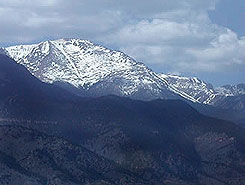 Historic Colorado
Katherine Lee Bates wrote "America the Beautiful" atop Pikes Peak overlooking Colorado Springs.
Lieutenant Zebulon Montgomery Pike explored the southwest portion of the Louisiana Territory in 1806 and though he never climbed the peak that bears his name, he did publish a report that attracted a lot of interest to the area.
The slogan of "Pikes Peak or Bust," painted across many of the prairie schooners, was born at a time as fortune hunters headed west. Although only a handful of those who flocked to the region ever found gold.
Colorado's first and oldest military post, Fort Garland, was established in 1858 and commanded by the legendary frontiersman, Kit Carson.
In 1859, John Gregory discovered "The Gregory Lode" in a gulch near Central City. Within 2 weeks, the gold rush was on and within 2 months the population grew to 10,000 people in search of their fortune. It came to be known as "The Richest Square Mile on Earth."
Built in 1867 by Seth Lake, the Astor House in Golden was the first stone hotel built west of the Mississippi River.
John Henry "Doc" Holliday's brief and tumultuous existence led him to Glenwood Springs where he succumbed to tuberculosis and died at the Hotel Glenwood on November 8, 1887.
Glenwood Springs was a favorite stop of former president and hunting enthusiast Teddy Roosevelt. It was in this town where the teddy bear got its name.
The Kit Carson County Carousel in Burlington dates back to 1905, making it the oldest wooden merry-go-round in the United States. It is the only wooden carousel in America still with its original paint.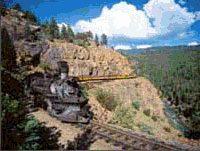 Altitude Awareness
In Colorado's high country, skies are bluer and stars are brighter because of our altitude. Our air is thinner, with less oxygen, than at sea level, especially above 7,000 feet. Until your body adjusts, go easy on physical activity:
Avoid strenuous exercise and stay below 7,000 feet on your first day. Take it easy
Drink more water than usual as the air is drier and your body can dehydrate more quickly
Minimize your intake of alcohol, caffeine and salty foods as they deprive your body of oxygen and water
Eat healthy: high carbohydrate foods, such as grains, fruits and vegetables
There is less atmosphere to screen out ultraviolet rays, so remember to wear sunscreen, sunglasses, and a hat with a brim for shade
Altitude can produce some unusual effects such as dizziness, nausea, and headaches. Make sure you travel with a companion and know the early onsets: severe coughing, wheezing, shortness of breath, or chest pain. If you notice any of these symptoms, get that person to a lower altitude as quickly as possible.
If you adopt the proper attitude toward Colorado's altitude, you and your family will have the most enjoyable vacation experience possible.
CLIMATE/WEATHER
There is an average of 30 degrees difference between low temperatures at night and high temperatures in daytime.
CLOTHING
Dress in layers! We have a saying in Colorado: "If you don't like the weather, wait 5 minutes!"
DON'T BLAME FIDO
If your dog seems sluggish in the mountains, know that dogs do not automatically adjust to higher altitudes. Like humans, pets should be given time to get used to the thinner air. Give your dog lots of water, and while hiking, be careful of overheating. If your dog lags behind or its tongue hangs out, your dog is overexerted. Let the dog rest. If hiking away from water, carry a water bottle for your dog. Note: Dogs can get Giardia drinking from streams. Check with your vet for giardia shots. Also be sure to watch your dogs paws. Hiking in the woods can cause cuts, scrapes and foot pad injuries. Carry an anesthetic and gauze or tape to bandage wounds.
DEAD AIR
Cell phones don't always work in the mountains. If you have to use one for an emergency, a higher ridge-line will give you the best reception. (Just don't be on a ridge during a thunderstorm!) If you call 911, tell them where you are (ie: what trail, park, peak or county). Depending on where you are, you may reach an emergency center for a different county.
NO BUTTS ABOUT IT
Use your ashtray. Colorado state law states that anyone who throws a lit cigarette or other burning material from a moving vehicle faces a fine of up to $1,000 and could spend a year in jail. Triple civil damages can be charged for causing a wildfire.
BE PREPARED
The drier climate, higher altitude, and different outdoor pollens can trigger allergic reactions. If you have allergies, always be prepared for medical emergencies. Carry antihistamines or other allergy medications with you at all times.
Leave No Trace
LEAVE NO TRACE is a set of outdoor ethics to teach people about conservation of land and wildlife.
PLAN AHED AND PREPARE. Know the regulations and special concerns for the area you visit. Prepare for extreme weather and emergencies.
TRAVEL AND CAMP ON DURABLE SURFACES. Use established trails and campsites, rock, gravel, dry grasses or snow. Protect riparian areas by camping at least 200 feet from lakes and streams.
DISPOSE OF WASTE PROPERLY. Pack it in, pack it out. Inspect your campsite and rest areas for trash or spilled foods. Deposit solid human waste in catholes dug 6 to 8 inches deep at least 20 feet from water, camps, and trails. Cover and disguise the cathole when finished.
LEAVE WHAT YOU FIND. Preserve the past; examine, but do not touch cultural or historic structures and artifacts. Leave rocks, plans and other natural objects as you found them.
MINIMIZE CAMPFIRE IMPACTS. Campfires can cause lasting impacts to the back country. Use a lightweight stove for cooking and enjoy a candle lantern for light. Where fires are permitted, use established fire rings, fire pans, or mound fires and keep fires small.
RESPECT WILDLIFE. Observe wildlife from a distance. Do not follow or approach them. Never feed animals. Feeding wildlife damages their health, alters natural behaviors, and exposes them to predators and other dangers. Avoid wildlife during sensitive times: mating, nesting, raising young or winter.
BE CONSIDERATE OF OTHER VISITORS. Respect other visitors and protect the quality of their experience. Be courteous, yield to other users on the trail. Step to the downhill side of the trail when encountering pack stock. Avoid loud voices and noises.
Be sure to check out the Ultimate Beginner's Guide to Hiking before heading out on your next hiking adventure!
Bicycling in Colorado
RULES OF THE ROAD Bicyclists have all the rights and duties applicable to the driver of any other vehicle and can be penalized for violating traffic laws:
RIDE ON THE RIGHT. Ride in the right lane and never against traffic, except when passing another vehicle, preparing for a left turn or avoiding hazards. Always ride with the flow of traffic. Ride on the paved shoulder whenever a paved shoulder suitable for Bicycle riding is present.
RIDE SINGLE FILE. Ride two abreast only when no motor vehicle traffic is approaching within 300 feet (front and rear) or when all cyclists are in the shoulder. On curving canyon roads, play it safe and ride single file.
OBEY TRAFFIC LAWS, SIGNS AND SIGNALS. Use hand signals to indicate left or right turns, slowing or stopping.
USE LIGHTS! Wear headlights, taillights, and reflectors at night. Never assume motorists see you or that you have the right-of-way. Expect the unexpected; your first responsibility is to avoid a crash.
ALWAYS WEAR A HELMET!
RULES FOR MULTI-USE TRAILS: RIDING, SKATING AND WALKING.
Travel on the right, single file, with the flow of traffic. Don't block the trail. Groups should be in single file when other trail users are present and should never use more than one-half of the trail to allow for the flow of traffic.
Control your speed! Obey speed regulations. Slow down and use caution when approaching or overtaking other trail users.
Who yields the trail? Before passing another trail user, be courteous and make your approach known. A friendly greeting "Hello passing on your left," or ringing a bell is considerate. Bicyclist, skaters, walkers and others yield to Equestrians. Bicyclist and Skaters yield to walkers. Bicyclists yield to skaters. Downhill users yield to uphill users. Faster users yield to slower users.
Never spook animals. Leave no trace. Respect wildlife and plan ahead. Stay on existing trails and don't create any new ones. Pack out at least as much as you pack in.
Be Bear Aware
Today, only the black bear is known to exist in Colorado. Population estimates range from 8,000 to 12,000 bears. These bears can run up to 35 miles per hour, run up or down hills easily, and climb trees.
Bears use trails just as people do since it's easier to travel on a trail than through underbrush. Being aware of tracks, droppings and other bear signs (claw marks on trees, rotten logs ripped apart and hair on tree bark from rubbing) will allow you to determine better the presence of bears. Bears may be active anytime, during day or night, most often during morning and evening twilight.
If we are to live with wildlife, we all need to do our part:
Keep trash in bear proof containers or keep containers in a secure building.
Do not leave pet food outside.
If bears are present, remove all bird feeders, including hummingbird feeders.
Clean BBQs after each use.
Do not put fruit and vegetables in compost piles.
Do not feed bears or try and approach them.
Keep all lower level windows and doors tightly closed.
If a bear enters your house open doors and do not get between the bear and its escape route.
Camping in Bear Country:
Always keep a clean camp.
Don't leave food out when not in use. Store it in bear resistant storage unit, hard-shelled vehicle or car trunk.
Use bear-resistant trash receptacles.
Keep your sleeping area, tent and sleeping bag free of food and odors.
Don't sleep in clothes you cooked or handled game in.
What to do if you meet a black bear:
STAY CALM. If you see a bear and it hasn't seen you, calmly leave the area. As you move away, talk aloud to let the bear discover your presence.
STOP. Back away slowly while facing the bear. Avoid direct eye contact as bears may perceive this as a threat. Give the bear plenty of room to escape. Wild bears rarely attack people unless they feel threatened or provoked.
IF ON A TRAIL, STEP OFF THE TRAIL on the downhill side and slowly leave the area. Don't run or make any sudden movements. Don't climb a tree.
SPEAK SOFTLY. This may reassure the bear that no harm is meant to it. Try not to show fear.
IF YOU MEET A BLACK BEAR WITH CUBS, use extra caution. In contrast to grizzly bears, black bears normally do not defend their cubs aggressively, but still use caution.
FIGHT BACK if a bear attacks you. Black bears have been driven away when people have fought back with rocks, sticks, binoculars and even their bare hands.
Wildlife Watching Information
We've all had it happen. You look up from the trail just in time to see an animal dive out of sight. The truth is, most animals see and hear us long before we catch their drift. Fortunately, there are simple ways you can help blend into an animal's surroundings. The ultimate wildlife watching experience is behavior watching - viewing animals without interrupting their normal activities.
FADE INTO THE WOODWORK
Wear natural colors and unscented lotions.
Remove glasses that glint.
Walk softly so as not to snap twigs or trample wildflowers.
Crouch behind boulders or vegetation to blend your figure or break up your outline.
LET ANIMALS BE THEMSELVES
Resist the temptation to "save" baby animals. Mom is usually watching from a safe distance.
Give nests a wide berth. Your visit may lead predators to the nest or cause the parents to leave, exposing eggs or young to the elements.
Let animals eat their natural foods. Sharing your sandwich may harm wild digestive systems and get animals hooked on handouts.
CAMERA TIPS
Use at least a 400 mm lens.
Have the sun at your back.
Air for featuring wildlife within its natural surroundings, not a full frame profile.
"CATCH" A FISH VIEW
Crouch when you approach a stream or lake bank to avoid being seen by watchful fish.
Keep an eye on your shadow so it doesn't cross the water.
Wear dull colors that won't contract with your surroundings.
Move like molasses: smooth and steady.
Tread lightly to cut down on vibrations that carry into the water.
COME TO YOUR SENSES
A wildlife encounter is a spectrum of sensations. Deepen awareness by tapping your sense of smell, taste, touch, hearing and sight.
Use your peripheral vision rather than turning your head.
Look above and below you. Animals occupy niches in all the vertical and horizontal layers of a habitat.
Cup your hands around the back of your ears to amplify natural sounds.
Silence can speak volumes. Animals may fall silent when a predator is passing through an area.
Peer through a hand lens to enter the world of insects.
THINK LIKE AN ANIMAL
Imagine how the animal you are seeking spends its days. Check field guides to find out about life history and preferred habitats.
As a rule, the border between two habitats is a good place to see residents from both places.
Look in high-visitation areas: trail intersections, perches, ledges overlooking open areas and drinking sites.
Take note of the season and guess whether the animal will be searching for a mate, feathering a nest, fattening for the winter or preparing to migrate.
Dusk and dawn offer best bets for viewing.
Consider the weather. After a rain, for instance, many animals emerge to feed.
HOW TO USE BINOCULARS
Find the subject with your unaided eyes.
Bring the eyepieces just under your eyes.
Sight the subject over the tops of the eyepieces.
Slowly bring the binoculars to your eyes.
School Breaks & Family Vacations
How to Turn School Breaks Into Your Best Family Vacations Ever!
School breaks can be a great opportunity to spend some time together with your family. Even with the pandemic slowing down, though, many people are still concerned. Luckily, there are still plenty of ways to safely hit the road. And even if you choose to stay at home in your Colorado neighborhood, school vacations typically represent a break from your family's usual routine.
Whichever route you embrace, the following ideas from the Colorado Vacation Directory can help you and your family make the most of your breaks this year – and stay safe while doing so.
Budget-Friendly Travel
As the COVID-19 pandemic wanes, it's no wonder you and your kids may be clamoring for a change of scenery. Although you should keep the virus in mind, especially if you have young children who aren't yet eligible for vaccinations, you can still get out and have some fun together during your next school break. And believe it or not, that's possible even if you're on a tight budget!
A road trip currently remains one of the safest travel alternatives, since that allows you to avoid crowded terminals and sitting next to strangers. Try an extended drive to visit some friends or family members you haven't seen in a while or tour some off-the-beaten-track attractions. Consider renting a unique property such as a houseboat or treehouse. An old-fashioned family camping trip is another excellent pandemic-friendly vacation idea.
Strategies for Safety
Another way to keep your family safe on the road is by avoiding destinations that are likely to be crowded, such as amusement parks, pools or concerts. Continue to follow good handwashing, masking, and social distancing protocols. Be sure that anyone in your family who is eligible gets vaccinated before heading out on the highway. In addition, infectious disease experts suggest steering clear of those parts of the country where COVID-19 variants are currently rising.
Family Staycation
The best part of any vacation is the memories you make together as a family, notes Dr. Messina & Associates, so who says you can't create some memorable moments in the comfort of Colorado home? Try to switch up your ordinary routine so it's clear to everyone you're in vacation mode, then let the good times begin.
Ideas for Fun
Look for activities that involve everyone's participation, including some new pursuits you haven't attempted before. HGTV suggests installing a fire pit and gathering the family around for s'mores and ghost stories, followed by a little backyard stargazing. Set up a neighborhood scavenger hunt with clues from around your block. Consider spending one day competing in a lawn decathlon with fun events such as ladder toss or cornhole.
Ways To Keep Everyone Safe
Make your backyard a safe oasis for your Colorado staycation. Clean up any trip hazards or piles of unsightly rubbish. Consider installing a fence around your property to add safety and privacy to your outside festivities. Your best bet for a barrier installation is usually a local fencing contractor. As with establishing an atmosphere of wellness within your home, the goal is to make your setting as positive and refreshing as possible, free of stress and negativity.
With a little planning, you and your family can transform this year's school breaks into safe, fun family adventures that everyone is sure to remember forever.
---