Plan your 2019 Colorado Vacation Today!
August Ahhhh, the dog-days of summer and so many places to cool off in Colorado! Head to Crestone for their annual Music Festival. The Grand Heritage Bike Tour on "Back-roads & Byways" is a multi-day bicycle tour leaving from Kremmling and finishing in Winter Park. The Cumbres and Toltec Scenic Railroad does a Wildflower/Botany Train on August 4th and a Sunset Train Ride on August 17th. On August 30th the Leadville CO & Southern Railroad Co offers a Night Ride with a BBQ dinner. The North Fork Valley has several events this month including: 10th Annual West Elks Wine Trail, 114th Annual Delta County Fair and Rodeo, and the 4th Annual Farm to Fiddle weekend. John Martin Reservoir State Park will soon see the Piping Plover and Interior Least Tern nest birds finishing their summer vacation here in Colorado.
Fun Fact: HIGH COUNTRY is a fancy way Coloradans refer to the "mountains." It's a useful catch phase both weather forecasters and traffic reports use. However, we often say "Headin' to the High Country for a weekend outing." Did you know Colorado has the highest average elevation of any state, as well as the highest low point, making Colorado the "highest state" in the nation! No drugs needed!
Helpful Hint: Altitude Awareness - Please be smart before heading into our high country. Take it easy your first 24 hours to get acclimated, stay hydrated - water is your friend, limit soda and alcohol, wear sunglasses and use sun screen. Remember your pets deserve the same care.
Summer Recreation, Attractions & Fun Things To Do in Colorado
Colorado Culture

Colorado Museums & Tourist Attractions
Monumental Scenery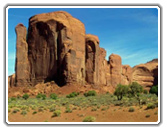 Colorado National Parks & Monuments
Waterfront View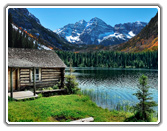 Colorado Waterfront Cabins & Rentals
Colorado Vacation Planning - Cabins, Motels, Campgrounds, Vacation Homes, RV Parks
Our Colorado Partners
Featured Colorado Maps
Explore Colorado's Towns by Region:


View Colorado Regions Map
Downloads & E-News - Great Vacation Resources on Colorado