Plan your 2019 Colorado Vacation Today!
March is Colorado's snowiest month. This Spring Break, put a Ski Vacation on the top of your "Play" list! Join us for snow, fun and sun, Colorado Style! Sand Hill Crane's are Colorado's original spring vacation seekers as they visit the Monte Vista Wildlife Refuge and the Alamosa National Wildlife Refuge each March; join them March 8-10, 2019 for the Crane Festival in Monte Vista.
Saturday, April 20th is the First Day of National Park Week -- Enjoy a Free day on Uncle Sam! On January 26, 1915, President Woodrow Wilson signed the Rocky Mountain National Park Act, making it the 2nd National Park in Colorado and the 9th in the nation!
As the snow melts in May, our rivers and streams start to come alive with Whitewater and Native Trout -- find a pole, hop a raft and plan a lazy day.
A couple terms that will help you in Colorado:
POWDER DAY -- A powder day follows a night that has had at least 3 inches of snow fall; the skiing and boarding during early morning runs feels like you are floating on air down the slope. Colorado snow is fluffy, dry and deep, which reminds us of powder. I'd rather fall on powder than ice. THE DIVIDE -- Also known as the Continental Divide, runs along the crest of Colorado's Rocky Mountains north to south. Rivers and streams west of The Divide flow to the Pacific Ocean, while the water on the east side of The Divide head to the Gulf of Mexico -- Best way to experience the Continental Divide in the winter is Snowmobiling and at the top of Monarch Pass where there is a gondola ride.
Winter Recreation, Attractions & Fun Things To Do in Colorado
Hit The Slopes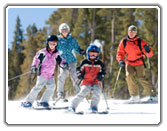 Colorado Ski Resort Towns
Time To Relax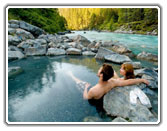 Colorado Hot Springs
Cozy Winter Lodging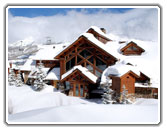 Colorado Winter Lodging
Colorado Vacation Planning - Cabins, Motels, Campgrounds, Vacation Homes, RV Parks
Explore Colorado's Towns by Region:


View Colorado Regions Map
Downloads & E-News - Great Vacation Resources on Colorado