Plan your 2019 Colorado Vacation Today!
There's no better time than September to pick your favorite Scenic Byway and watch the seasons change from Summer to Fall. Colorado's Fall colors usually peak from Mid-September through Late-October. As the nighttime temperatures start to drop down to 30 degrees, our native trees like the quaking aspen and plains cottonwood start the processes of turning their leaves gold, orange, red and purple. Gear up for the 8th Annual Pedal The Plains (photo above) multi-day bike ride September 13-15 that loops around Lamar, Holly, and Springfield, Colorado.
Helpful Hint: Altitude Awareness - Please be smart before heading into our high country. Take it easy your first 24 hours to get acclimated, stay hydrated - water is your friend, limit soda and alcohol, wear sunglasses and use sun screen. Remember your pets deserve the same care.
Summer Recreation, Attractions & Fun Things To Do in Colorado
All Aboard!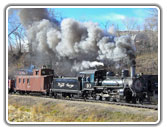 Colorado Train Rides
Enjoy The Harvest

Colorado Agritourism
Catch The Big One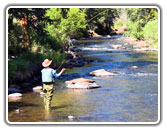 Colorado Fishing & Fly-fishing
Colorado Vacation Planning - Cabins, Motels, Campgrounds, Vacation Homes, RV Parks
Our Colorado Partners
Featured Colorado Maps
Explore Colorado's Towns by Region:


View Colorado Regions Map
Downloads & E-News - Great Vacation Resources on Colorado