LOVE COLORADO in the FALL!
Crisp Air • Leaf Peeping • Sweaters and Boots • Football • Pumpkins • Beer and Cider • Harvest • Elk Bugling • Coffee and Hot Chocolate . . . You Name It -- Colorado is Your Autumn Cornucopia!
Celebrate the Season in October - The North Fork Valley's 8th Annual Hard Cider Festival is on October 26th with a full day of live music and sipping hard cider. For a quick tap into November, head to Estes Park on the 2nd for the "Fall Back" Beer Fest. 30+ Colorado craft breweries pour unlimited samples!
Fun Fact: Quaking Aspen are usually found on the southern slopes of our mountains and the southern side of our valleys. The reason an entire mountainside or valley will change at the same time is because all the aspen roots are connected and therefore the same tree!
Helpful Tip: Some prime Colorado vacation destinations for fall color viewing in October are the Royal Gorge Area, Green Horn Valley, Navajo Lake, Naturita/Nucla, and Dolores.
Fall Recreation, Attractions & Fun Things To Do in Colorado
All Aboard!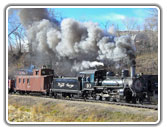 Colorado Train Rides
Enjoy The Harvest

Colorado Agritourism
Catch The Big One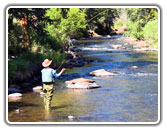 Colorado Fishing & Fly-fishing
Colorado Vacation Planning - Cabins, Motels, Campgrounds, Vacation Homes, RV Parks
Our Colorado Partners
Featured Colorado Maps
Explore Colorado's Towns by Region:


View Colorado Regions Map
Downloads & E-News - Great Vacation Resources on Colorado