Cuchara Valley Area - South Central Colorado
Includes Cuchara, La Veta
Adventure is Calling you to Cuchara and La Veta in the Cuchara Valley Area of Colorado
CUCHARA VALLEY AREA is classic Colorado, where snowcapped mountains meet lush green valley floor and rushing rivers offer an abundance of outdoor family experiences. If you're looking for small town charm, big mountain vistas, western culture and a place to recharge with elbow room this south central Colorado destination is your oasis.
The crown jewel of the region is Spanish Peaks National Natural Landmark, Los Cumbres Espanolos. This landmark along the southern Colorado Rocky Mountain Range has two summits, rising 7,000 feet above the Cuchara Valley, making the "Double Mountains" an easily recognizable reference point for travelers of all cultures (past, present and future).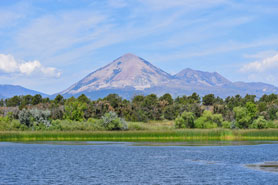 The Peaks are significant to the Comanche and Ute Tribes, who believe the Rain Gods, that make these Peaks home and creates thunderstorms to nourish the valley below. The local Ute Tribe named them "Wahatoya" "Huajatolla" and/or "Guajatoyah" (depending on the many English writers of the time) and translates to mean "breasts of the earth." West Spanish Peak is 13,623 feet and East Spanish Peak is 12,708 feet; like many twins from a distance they look the same.
Spanish Peaks provide the trails and rivers that welcome hikers, anglers, mountain bikers, electric bikers, off-roaders, hunters; and the winter sports of ice-fishing, snowshoeing, cross-country skiing, snowmobiling and sledding. Cuchara Mountain Park reopened the old guest lodge in 2022 as a gathering place for families during their day of adventure. Backcountry skiers may use the former ski slopes and there is a cross-country ski train; the current plan is to open a concession-operated chairlift for the 2023 ski season (keep your fingers crossed).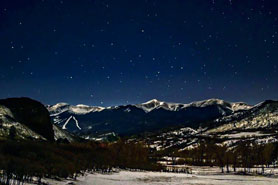 The first European settlers came to the Cuchara Valley in the early 1800s; they built homes and many became potato farmers and for their labor they got the land free. CUCHARA, a small, easy-going mountain village rests on the banks of the Cucharas River, tucked along the Highway of Legends Scenic Byway, and surrounded by the San Isabel National Forest. FUN FACT: Cuchara was first known as Nunda Canyon (Potato Canyon) and renamed to Cuchara in the late 1800s, which means spoon in Spanish.
Grandote Peaks Course, a public golf course, has 18 holes over 7,085 yards with a par of 72. Situated at the base of the majestic Spanish Peaks, the spectacular views of the Sangre de Cristo mountain range make this golf course a must when visiting south central Colorado. New greens were laid on the front 9 holes in 2022.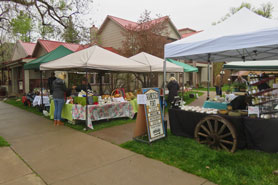 Colonel Francisco founded a trading post 11 miles northeast of Cuchara in 1862 and LA VETA, the vein in Spanish, grew up around it. Francisco Fort is the last surviving original adobe fort in the Colorado; today the fort is an historic museum featuring the original adobe fort, a saloon, log schoolhouse and blacksmith shop with exhibits and heirlooms from Native cultures, Spanish settlers, Anglo pioneers, local industries, and geology that bring Colorado's history and culture to life! The Museum is open for tours Tuesday - Saturday from Memorial Day to the first Saturday in October. In 1877 the Denver and Rio Grande Railroad built a narrow gauge line over Old La Veta Pass between Walsenburg and the San Luis Valley, Uptop Ghost Town includes the 1877 train depot (now a museum), dance hall, tavern, chapel and a few scattered buildings are all that remain in this timber community at 9,400 foot. Also in 1877 a depot was built in La Veta and eventually became La Veta's Town Hall. La Veta's downtown district is lined with cozy shops, restaurants and a thriving art community.
COLORADO FUN FACT: For many years, the rail line between La Veta and Wagon Creek was the highest in the world; the tracks are still visible along old La Veta Pass. The depot in Uptop, at the summit, is on the National Register of Historic Places.
EXPLORE and PLAN for your Cuchara Valley Area VACATION
Highway of Legends Scenic Highway: Colorado Highway 12 was first designated a National Forest Byway in 1988 and in 1989 it became a Colorado Historic and Scenic Byway. In February 2021 The Highway of Legends was added to the National Scenic Byway System in recognition for its' historic integrity and untouched scenic beauty. Be sure to stop and hike to the Dakota Wall, the first hike listed below, a sandstone formation nicknamed the '"Backbone of the Rockies," these great walls stretch all along the Front Range of the Rockies and are visible in Spanish Peaks Country when traveling through the Cucharas Valley and over La Veta Pass.
Visit the Cuchara Valley Area in July for the Spanish Peaks Music Festival or the first weekend in October to experience La Veta Oktoberfest, a 30+ year tradition featuring a German Biergarten and dancing in the streets.
The 5 Most Popular Hikes in the Cuchara Valley
#1 The Spring Creek Trailhead #1302, a local favorite, is off CO 12 on FSR 414 where there is a parking lot, restroom and picnic area at the Trailhead. This moderate trail is used in summer by hikers and in winter by snowshoers and cross-country skiers; it's 2.6 miles there and back. For the motorized crowd from electric bikes to ATVs, motorcycles and mountain bikes this trail is a starting off point to connect with the Baker Creek Trail and Indian Creek Trail. Enjoy a fantastic view of the mountains and the valley below. In spring and early summer wildflowers make the meadows shine in a rainbow of color and in fall the aspens turn the mountains into a shimmering vista a gold.
#2 Dike Trail #1389 to Dakota Wall a sandstone formation formed when fault lines broke and turned upright is open to hikers, horseback riders, and mountain bikers. The trail traverses the base of the dike rock formation, near Cuchara off CO 12 on Oak Road. The round trip is 3.5 miles. Motorized transportation is prohibited.
#3 The 3/4 mile non-motorized hiking trail between Bear Lake and Blue Lake again off CO 12 on FSR 422, this a great hike for families with young children and dogs; bring a fishing pole and picnic lunch for a family fun day.
#4 West Spanish Peak Trail starts at Cordova Pass the hike starts out gentle through the woods and followed by an abruptly steep climb to West Spanish Peak at 13,623 feet. Families with small kids will love walking to the lookout point and back, the views are breathtaking and this part of the trail is easy with wildflowers and wild mushrooms along the way. For those hoping for a more vigorous hike the trail gets harder after the lookout and is prefect for those planning a hiking day, you'll be rewarded with 360 degree views at the volcanic summit! This is an 8 mile round trip.
#5 Daigre Reservoir Loop Trail in The Wahatoya State Wildlife Area in La Veta, drive east on Moore Avenue for a mile to the parking lot. Bring your binoculars the bird watching is fantastic. If you have a Colorado Fishing License or if your kids are under 13 and plan to do the fishing, it's free. Bring fishing rods, artificial flies and lures to catch trout in this cold water lake; no live bait. Dogs are welcome and must be on a leash. The Loop trail takes about 20 minutes along natural and gravel surfaces with stunning views of the Spanish Peaks and Mount Mestas formally La Veta Peak.
Location, Driving Directions, Air Travel: Cuchara Valley Area, Colorado
Cuchara Valley Area is in South Central Colorado between Walsenburg and Alamosa just off US 160 on Colorado Highway 12 both are part of the Highway of Legends Scenic Byway in the Colorado's Spanish Peaks Region.
COMMERCIAL AIR TRAVEL: Commercial Airlines fly to the San Luis Valley Regional Airport in Alamosa, Pueblo Memorial Airport, Colorado Springs Airport, and Colorado's main airport Denver International Airport. Please contact your preferred travel agent or airlines for flight arrangements.
AIRPORT DRIVE TIMES: Alamosa is an hours drive east on US Highway 160. Pueblo is an hours drive southwest via I-25 south and then US 160 west. Colorado Springs is 2 hours and Denver is 3 hours for both you will drive southwest on I-25 and then on US 160.
Cuchara Valley Area is near: Stonewall & Walsenburg

Featured Cuchara Valley Area Businesses
Cuchara Vacation Rentals
Vacation in Cuchara a mountainside village. Cabin, condo, and home rentals. Let your dog play in San Isabel National Forest. Hike, bike, trout fish, horseback ride, 4-wheel, watch wildlife, star gaze! Free WiFi.



---
Harding's Corner B&B
Along the Scenic Highway of Legends, on the corner, 5 blocks from downtown La Veta CO, sits this family friendly B&B. No Smoking or Pets. Harding's Welcomes Children! 5 bedrooms with private baths.



---

We RV Champions of La Veta
Explore Southern Colorado at We RV Champions RV Park tucked away in the beautiful town of La Veta with 43 sites and 2 at-site vintage camper-trailer rentals. We Love Pets -- VIP dog park! Free Good WiFi!




---
For more travel information contact:
Cuchara Valley Area Activities & Maps
National Historic Sites and Landmarks:
Spanish Peaks National Natural Landmark

Scenic Byways:
Highway of Legends Scenic Byway

Ski Areas & Resorts:
Cuchara Mountain Park

---