Colorado Scenic Byways Map
Highway of Legends Scenic Byway
Highway of Legends Scenic Byway
In the late 1800s, while much of the state mined gold and silver, the southeast region mined coal. Linked with this region are many legends and folklore. Such as the lost gold vein with nuggets so big, one nugget could provide enough wealth to live for a year. There is also the story of George Simpson who saved Trinidad from an attack from the Ute Indians by distracting them with taunts. Explore these legends by traveling the Highway of Legends byway. Beginning in Trinidad, you can follow the Cucharas River, traveling through Cokedale, Cuchara, La Veta, and end in Walsenburg. The byway is usually open all year and is 82 miles long. Be sure to give at least 2 hours to travel and see everything this byway has to offer.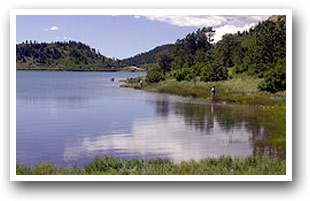 From the byway, you can see views of the Spanish Peaks as you travel through the San Isabel National Forest. The Sandstone walls of Stonewall also decorate the area, giving a Spanish appearance. The dikes of the Spanish Peaks protrude from the sandstone walls. Here, the ancient legend of the Devil's Stairs was born. Long ago, the Devil came out from hell to survey the world, choosing the Cuchara Valley as his entrance. He would climb the steps and sit on the twin mountains, plotting how to make it his. God learned of this, and noticing the beauty of the mountains and valley, took it as his own. He forbade the Devil to ever enter the area again, but the Devil's steps still stand.
There are many opportunities for recreation in the area as well. Boating and fishing are available in the many lakes and streams in the area. Mountain biking and road biking are also popular activities. Horseback riding trails also cover the area.

Places to Stay & Fun Things to Do
Cuchara Vacation Rentals

Affordable Rentals: Cabins, condos, mountain homes in quaint village of Cuchara. Vacation with your dog in the San Isabel National Forest: hike, bike, trout fish, horseback ride, 4-wheel, watch wildlife! WiFi.
Harding's Corner B&B
Along the Scenic Highway of Legends, on the corner, 5 blocks from downtown La Veta CO, sits this family friendly B&B. No Smoking or Pets. Harding's Welcomes Children! 5 bedrooms with private baths.
More Activities & Information
Cuchara Valley Area, Colorado includes: Cuchara, La Veta
Stonewall, Colorado includes: Weston
Trinidad, Colorado includes: Aguilar
---
Scenic Byways in Colorado