New Mexico Scenic Byways Map
Enchanted Circle Scenic Byway
For a road that goes, essentially, nowhere, the Enchanted Circle Scenic Byway has a lot to offer.
Starting and ending in Taos, the 84-mile route takes drivers through scenic ski areas, past a Vietnam memorial and over winding roads seen in movies such as "Butch Cassidy and the Sundance Kid" and "Easy Rider."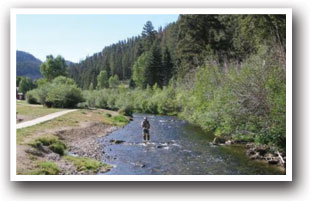 From the art-filled, historic town of Taos, vacationers can get started on the route by hopping on NM 522 north to Taos Pueblo. The ancient multi-storied adobe structure was built by Ancestral Puebloan Indians about 1,000 years ago. A UNESCO World Heritage Site and a National Historic Landmark, the pueblo - which is open to visitors daily - is still home to more than 1,900 Taos Indians and is the oldest continuously inhabited community in the United States.
Continuing down the road, the D.H. Lawrence Ranch outside Questa makes an interesting stop. Home to the renowned British author for just eleven months, the ranch is said to be where he wrote several of his works and inspired the setting for several others. Now owned by the University of New Mexico, the ranch is used mostly as a facility for university conferences, but visitors can stop by the D.H. Lawrence Memorial, a stone monument rumored to contain his ashes.
Once outside the ranch, the town of Questa offers countless outdoor activities at sites such as Cabresto Lake, known for its hiking and biking trails, fishing and canoeing, as well as the trail-filled Wild River Recreation Area. Vacationers can then take NM 38 east to continue on the route and enjoy more outdoor fun at Columbine Canyon, which features a creek-side hiking trail fringed with native flowers and berries.
Farther down NM 38, drivers will be treated to roller-coaster hills through old mining country on the way to Red River, a mountain town with skiing, fishing and thrilling switchback roads. Drivers will then climb to Bobcat Pass at 9,820 feet before descending into the mountain-ringed Moreno Valley. Keep an eye out for Wheeler Peak, at 13,162 feet, it's the highest point in New Mexico.
Nestled in the valley, drivers will find Elizabethtown, a once thriving mining village that has become an abandoned ghost town. Visitors can explore the town's ruins, which are watched over by the stone shell of the Mutz Hotel.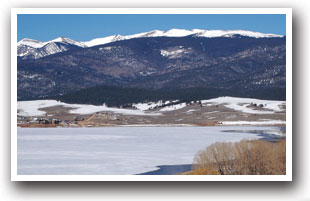 NM 38 continues on to its end at Eagle Nest, where anglers will find a treat waiting for them at Eagle Nest Lake, a fishing hole stocked with plenty of salmon, rainbow and cutthroat trout.
Drivers can then take US 64 to Angel Fire, a town named by monks for the glow caused by the sun setting over Agua Fria Peak, and on to the Vietnam Veteran's Peace and Brotherhood Chapel. Marked by a tall white spire, the monument is home to photos, mementos and candles left for the casualties of the Vietnam War.
US 64 will then lead drivers back to Taos, right where they started, and ultimately a lot better off.

Places to Stay & Fun Things to Do
Rio Chama RV Park In Northern New Mexico


In Chama, New Mexico along scenic Highway 17. Fish our Rio! Watch the TRAIN steam over the bridge by our RV Park. BIG RIG Friendly: 60 foot pull-thrus! Camp in shade along the Chama River. Free WiFi!
More Activities & Information
Angel Fire, New Mexico includes: Eagle Nest
---
Scenic Byways in Colorado