Colorado Scenic Byways Map
San Juan Skyway Scenic Byway
In 600 AD, the ancient Anasazi, or Pueblo Indians, lived and worked in Southwest Colorado. When resources became scarce and their crops had been compromised by drought and frost, the Anasazi left the region to settle in other parts of Colorado, Arizona, and New Mexico. The Spanish followed about 500 years later, striking gold. Miners established towns, leading to the birth of the railroad in the area. Today, this area is full of ancient ruins, deserted mining towns, national parks, and some of the best scenery in America. The San Juan Skyway Scenic Byway covers 236 miles of terrain across southwestern Colorado. This loop travels through Durango, Mancos, Dolores, Stoner, Rico, Telluride, Ridgway, Ouray, and Silverton. Be sure to allow at least two days to see everything this byway has to offer.
The byway passes through five million acres of both the San Juan and Uncompahgre National Forests. Traveling the length of the byway will take you through high mountain passes and historical towns and by waterfalls and acres of wildflowers. In autumn, the aspen trees turn brilliant colors. Sunset Magazine recognized the area's superior beauty by writing, "The San Juan Skyway... possibly America's greatest fall-color drive...its aspen views are alternately breathtaking and intimate."
There are many fascinating historical features in the area. Once a landmark for missionaries, conquistadors, and prospectors settling in the region, Chimney Rock is a designated Archaeological Area and National Historical Site. Many State and National Parks also populate the route of the byway. Both the Mancos State Park and Ridgway State Park are home to many recreational activities. Mesa Verde National Park is the home of the cliff dwellings of the ancient people and recognized as one of the most preserved archeological sites. Also, the Durango and Silverton Narrow Gauge Railroad still operates carrying 200,000 passengers a year.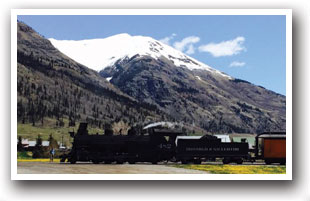 Recreational activities include four wheeling, hiking, bicycling, hunting, photography, fishing, kayaking, dirt biking, and motorcycle tours. For a more relaxing stay, visit town shops and hot springs in the area. In the winter, Telluride and Purgatory provide elite downhill skiing. Winter also creates opportunity for snowshoeing, ice climbing, snowmobiling, and cross country skiing. Purgatory ski resort also provides summer activities; the ski lift will take you to the top of the mountain for sight seeing, wild flower viewing, and a toboggan-like alpine slide.

Places to Stay & Fun Things to Do
4J+1+1 RV Park and Campground


Campground along the Uncompahgre River in Ouray. Same Family (4J+1+1) ownership for OVER 60 YEARS! Cross the foot bridge from your RV site to the public hot mineral springs pool, dining and shops.
Durango's Tamarron Vacation Rentals


Tamarron Resort is along the Million Dollar Highway, 15 miles north of downtown Durango; and, 5 miles south of Purgatory Ski Resort. Vacation Rentals: Kitchenette lodge rooms and studio lofts. Ski Shuttle!
Groundhog Lake RV Park, Campground and Cabins

Outdoor Family FUN! Between Telluride and Dolores, Groundhog Lake is a favorite local fishing spot. Campground: RV sites, lakeside tenting, mountain cabins. Sustainable trophy hunting. Boat rentals.
Old Hundred Gold Mine Tour - Historic Firsthand Experience



A family experience in Silverton! Gold Mine Tour with Tram Ride into Galena Mountain. Historic guided walk in a hundred years old mine. See gold, crystals, minerals. Must day trip from Durango or Ouray.
Pine River Lodge - Overlooking Beautiful Vallecito Lake



YEAR AROUND FUN! Lodge with indoor pool! In the San Juan Mountains along Pine River overlooking Vallecito Lake, cabins and vacation homes with kitchens. Near Durango and Mesa Verde National Park.
Stoner RV Resort and Tent Campground


RV and tent camping between Dolores and Telluride and surrounded by the San Juan Mountains. Stoner RV Resort is a 7 acre mountain retreat with a dog park, food truck, central picnic shelter and camp store.
More Activities & Information
Dolores Area, Colorado includes: Mcphee Reservoir, Stoner
Durango, Colorado includes: Bayfield, Hesperus, Ignacio, Lemon, Vallecito Lake
Ouray, Colorado includes: Ridgway
Telluride, Colorado includes: Rico
---
Scenic Byways in Colorado