Colorado Scenic Byways Map
Frontier Pathway Scenic Byway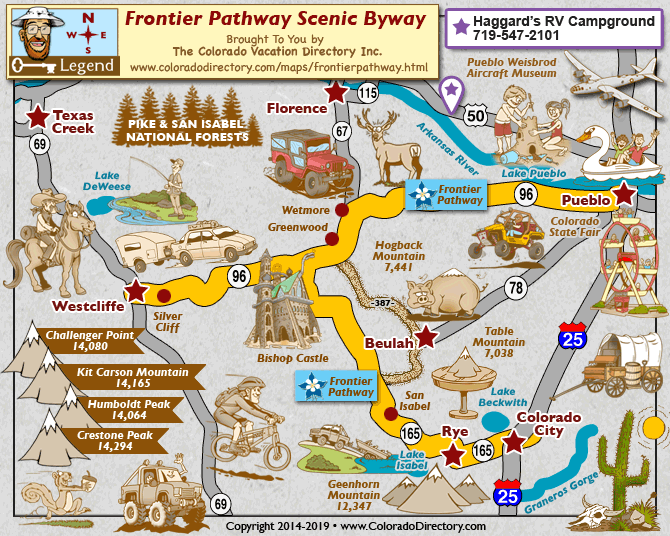 In the 1840's, easterners made their way across the Appalachian Mountains to settle in the West; ranches, farmsteads, trading posts, and stage stops established the culture of the West. The Frontier Pathway boasts a rich history of the early years of Colorado. As you travel along the byway, you can experience some of the joy and sorrow that people of the 1800s also encountered.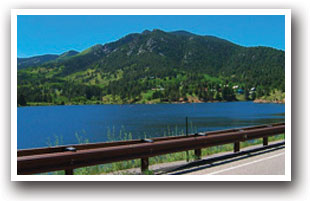 Some of the joys from the 1800s still exist today in the scenery. The pastoral scene along the byway includes the 100-mile long Sangre de Cristo mountain range. Also, along the pathway are sharp mesas, hogbacks, the Hardscrabble Canyon, and the Arkansas River. Within the San Isabel National Forest are the Wet Mountains and Greenhorn Valley. Escape from it all and see diverse wildlife, plants, and scenery.
Be sure to visit the Bishop Castle, built in 1969 entirely with a wheel barrel and shovel. The town of Rosita is also along the byway; this old ghost town has buildings dating as far back as the 1800s. Visit the Westcliff School House, built in 1891; to this day, no one is sure why there is no 'e' at the end of Westcliff in the school's name.
If activity is more your style, try mountain biking on Greenhorn Mountain. There is also fishing available in the Arkansas River and Lake San Isabel, backpacking, and hiking. In the winter, you can snowmobile, ice fish, and cross-country ski. Along parts of the byway are also 4 foot paved shoulders for bicyclers to travel on the byway.
Location: Starting in Pueblo, take Highway 96 east and end in Westcliffe. Or you could turn south onto Highway 165 and end in Colorado City traveling through the San Isabel area.

Places to Stay & Fun Things to Do
Golden Corner Motel of Westcliffe Colorado

Stay in the picturesque Wet Mountain Valley. On the corner in Westcliffe. Golden Motel has rooms with full kitchens, bathrooms, air conditioning, dining space, good WiFi. Oxygen bar, picnic area. Near trails.
Haggard's RV Campground

Haggard's has an outdoor swimming pool, hot showers, WiFi, game room, playground, mountain views. RV campground between Pueblo and Canon City on Hwy 50. BIG RIG friendly: full hookups, pull-thrus.
Pine Lodge - Colorado Mountain Cabins

Walk to pristine Lake Isabel from our Colorado retreat. Pine cabins in scenic San Isabel National Forest. Sit back and relax in our mountain lodge. Attractions: star gazing, biking, fishing, hiking, boating, relaxing.
Pines of Beulah: Mountain Cabins


Mountain cabins in Beulah surrounded by ponderosa pines, Middle Creek, and San Isabel National Forest. Equipped kitchens, HDTV with cable, DVD player. Free WI-FI. A treehouse for your kids.
Table Mountain Lodge Vacation Home

Built for Wheelchair Access, views of Table Mountain. A Vacation Lodge Home in Greenhorn Valley. Year round outdoor fun. Less crowded than resort towns. 30 minutes from Pueblo; a mile off Hwy 165 in Rye.
More Activities & Information
Pueblo, Colorado includes: Pueblo West
Westcliffe, Colorado includes: Rosita, Silver Cliff
Greenhorn Valley, Colorado includes: Beulah, Colorado City, Lake San Isabel, Rye, San Isabel
---
Scenic Byways in Colorado