Pueblo - South Central Colorado
Includes Pueblo West
Experience Pueblo and Pueblo West, Colorado
Enjoy the 267 days of sunshine Pueblo has each year. Plan today: vacation at an RV Park, Colorado State Park or in a comfortable hotel room. Be sure to explore the Pueblo Weisbrod Aircraft Museum, spend a day boating or fishing at Lake Pueblo State Park, and in the evening, stroll along the Historic Arkansas Riverwalk of Pueblo.
Pueblo is at the eastern edge of the Rocky Mountains and has historically been known as a natural crossroads and melting pot for diverse ethnic groups since the dawn of time. Ute, Cheyenne, Arapaho, and Kiowa tribes as well as Spanish troops, mountain men, and gold seekers often came to Pueblo for the trade of goods and services. In 1806, Captain Zebulon Pike built a log fort -- the first structure built by Americans in Colorado. Eventually the railroads found their way to Pueblo and in the late 1880s, the town built smelters to process the minerals mined in the region.
Lake Pueblo State Park sits on semi-arid plains encircled by limestone cliffs and buttes with mountain vistas. The man-made lake, with its clean, cool water and great fishing along 60 miles of shore is ideal for sailing, picnicking, swimming, hiking, and biking.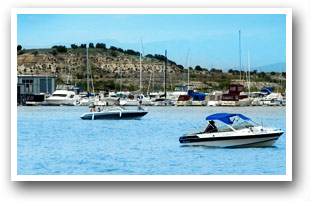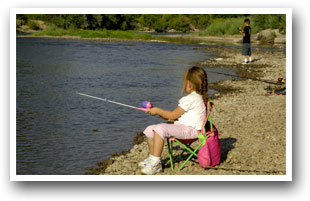 Pueblo is packed with culture; visit its many museums, Victorian mansions, the Colorado State Fair, and the Pueblo Zoo. El Pueblo Museum has exhibits on Pueblo's history from America's indigenous people (native Indians) through the area's agricultural and industrial development. Rosemount Victorian House at 419 West 14th was built in 1893; the 37-room mansion still has 85% of its original furniture, giving you a true glimpse of Pueblo's wealthy history. Sangre de Cristo Art Center features four fine arts galleries and a children's museum. Railroad buffs should visit The Union Depot on B Street; this impressive railroad station was completed in 1889 for $400,000 and is the finest depot west of the Mississippi River. The Pueblo Weisbrod Aircraft Museum is run by knowledgeable volunteers, their love of airplanes to historic uniforms will make your visit enjoyable. If you're looking for an outdoor activity; head to Pueblo Park's Disc Golf Course established in 1978. This is a fun way to spend the day with your kids. At the Pueblo Zoo, experience a rain forest and meet rare domestic animals at the Pioneer Ranch. Each year in late-August and early-September, Pueblo hosts the Colorado State Fair; this event is a full week of live entertainment, rodeo competitions, Colorado inspired vendor booths, and good old Western frolicking.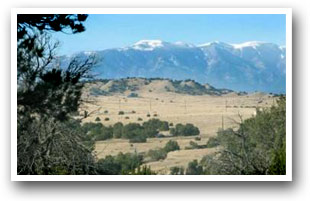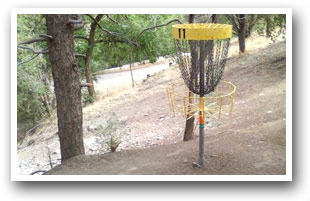 Other area attractions include rafting & kayaking on the Arkansas River, snowmobiling in San Isabel National Forest, hiking in Greenhorn Mountain Wilderness Area, and fishing & boating at Lake Beckwith.
The Arkansas River and Pueblo Reservoir offers everything for those who enjoy water sports, from fishing and sailing to whitewater rafting and kayaking. Within 30 minutes of Beulah are golf courses, and the Monarch Ski Area is two hours away near the Continental Divide.
Pueblo, Colorado is along the eastern boundary of the Royal Gorge Region and serves as a hub for activities and attractions along Interstate I-25, US Highway 50, and Colorado Highways 96 and 78.
Stop at the El Pueblo Museum and Byway Information Kiosk for area information; from I-25, take exit 98B and head west to the southeast corner of Grand and 1st Street.
The Frontier Pathway Scenic and Historic Byway connects Pueblo to Westcliffe via Colorado Highway 96 with a side trip along Colorado Highway 165 to San Isabel, Rye, and Colorado City. To get back to Pueblo, leave the Scenic Byway and hop on I-25 North for 28 miles. This Scenic Byway is 103 miles long, see landscapes from desert to mountain. This south central Colorado route offers hiking, fishing, and horseback riding in San Isabel National Forest, ATVing and Mountain biking on backcountry trails, the ghost town of Rosita, and Colorado's man-made wonder, Bishop Castle, in the Wet Mountains.
Pueblo Whitewater Park is located right in downtown on the Arkansas River. 8 drops and pools make up this half mile course; the features are named after sections of the world's largest mural along the south bank: Harpo, Marley, and the Grim Reaper are a few. Enter from Chapa Place and take out at Union Ave.
Pueblo, Colorado City, and Pueblo West, Colorado Driving Directions and Location
Pueblo is 96 miles north of the Colorado-New Mexico Border on I-25; and 156 miles west of the Colorado-Kansas Border on US Highway 50.
Commercial air travel accommodations are handled by the Pueblo Municipal Airport. Please contact your preferred travel agent or airline for flight arrangements. Pueblo is 130 miles south of Denver International Airport.
Pueblo is near: Fowler, Greenhorn Valley & Royal Gorge Area

Featured Pueblo Businesses
Echo Canyon River Expeditions - Day Trips
FAMILY and ADVENTURE Rafting. Echo Canyon is an hour from Colorado Springs near the Royal Gorge Bridge. 45 years of experience in providing RAFTING ADVENTURES. A Vacation MEMORY to Experience.



---
Fort's RV Park
Camping at Fort's offers more golf-able vacation days! Large, level, pull-thru RV sites have tree-shaded patios. Boat, fish, swim at Pueblo Reservoir State Park, 10 miles. In Pueblo, minutes to/from hospital.


---
Haggard's RV Campground
Haggard's has an outdoor swimming pool, hot showers, WiFi, game room, playground, mountain views. RV campground between Pueblo and Cañon City on US 50. BIG RIG friendly: full hookups and pull-thrus.




---
Lake Pueblo State Park
Minutes from Pueblo the state park is anchored by a large reservoir lake with 400 campsites, marina, a SWIM BEACH. Sun-lovers and water-sports enthusiasts vacation here! Hiking and biking nature trails.



---
Royal Gorge Cabins - Family Vacation Homes and Deluxe Glamping Cabins
Vacation near Colorado Springs, the Royal Gorge and Salida in a modern vacation home or chic canvas cabin all with incredible mountain views! On-site: 8 Mile Bar Grill and Echo Canyon River Expeditions.



---
For more travel information contact:
Pueblo Activities & Maps
Scenic Byways:
Frontier Pathways Scenic Byway
Santa Fe Trail Scenic Byway

Seasonal Attractions:
Colorado State Fair

Snowmobiling:
San Isabel Area Snowmobile Trails

Local Area Maps:
Royal Gorge & Cañon City Area Map

---