Colorado Hiking & Backpacking Trails
Greenhorn Mountain Road Mountain Bike Trails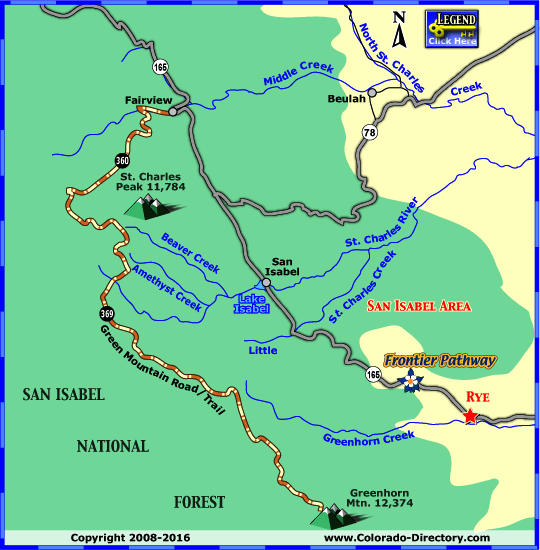 Greenhorn typically means a novice, a naïve individual. If you're planning on biking the trails around Greenhorn Mountain, though, don't take the name literally.
Full of steep, narrow and rocky trails, this area isn't for the casual biker. But for cyclists with experience, the Greenhorn Mountain area is a high-altitude, adrenaline-pumping adventure. Greenhorn Mountain Road itself, and the trail that runs alongside it, travels the crest of the Wet Mountains south toward Greenhorn Mountain, the range's highest point at 12,347 feet.
Other trails depart from the Lake Isabel Recreation Area and climb various mountainsides, with most eventually intersecting with Greenhorn Mountain Road. Alternatively, bikers can leave their car at one of the recreation area's trailheads, shuttle up Greenhorn Mountain Road and then have an exciting, downhill ride all the way back to the trailhead parking lot. Bikers can also explore the many old logging roads that extend off Greenhorn Mountain Road.
Whatever path cyclists choose, they're sure to enjoy a spectacular tour of the Wet Mountains. Riding through the area's lush tree groves makes it obvious why they're called "wet;" the area is fertile, green and more like the Pacific Northwest than arid Colorado.
To access the trails, take State Highway (SH) 78 southwest from Pueblo to SH 165. From there, travel north to Fairview and head west on County Road (CR) 360, which is Greenhorn Mountain Road.
If you're coming from the south, take SH 165 northwest from I-25 to Fairview.
More Activities & Information
Greenhorn Valley, Colorado includes: Beulah, Colorado City, Lake San Isabel, Rye, San Isabel
---
Hiking Trails in Colorado