Colorado Hiking & Backpacking Trails
Rocky Mountain National Park Hiking Trails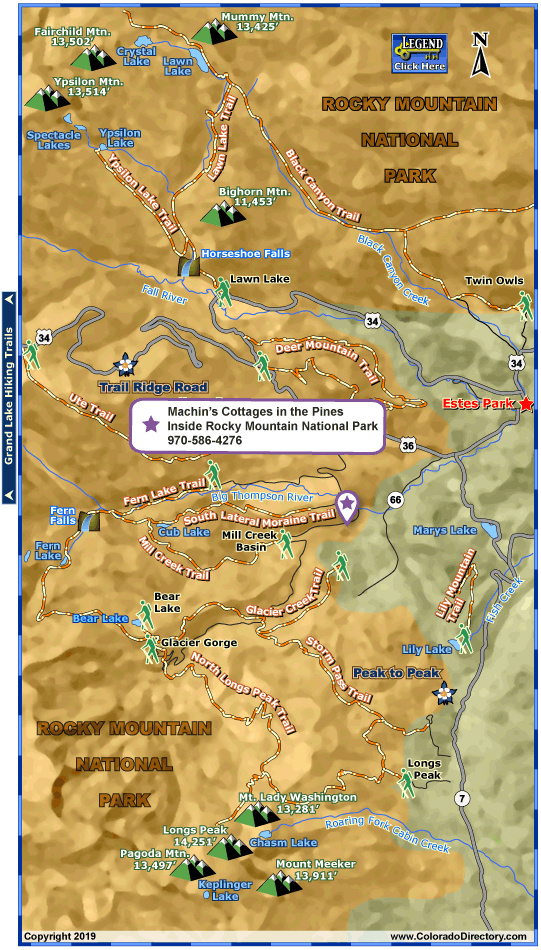 Rocky Mountain National Park Hiking Trails
(Note: Trailhead descriptions run from south to north, mileage given is one-way.)
Rocky Mountain National Park offers hiking beyond any stretch of the imagination. Pristine high mountain lakes, extraordinary wildlife, and 14,000 foot peaks will literally take your breath away. Whether you're experienced or just looking for a quiet walk, check out some of the hiking trails you'll find near Estes Park below.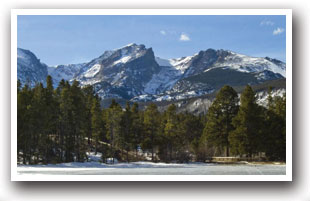 Bear Lake Trailhead
It's no surprise that this trailhead is one of the most popular in Rocky Mountain National Park. Visitors can start off easy, with short hikes ranging from half a mile to two miles around Lake Hiayaha and Bear, Dream, Nymph, Emerald and Bierstadt lakes. Moderate hikes up to Two Rivers Lake (2.6 miles, 1,125 ft. gain), Lake Helene (2.9 miles, 1,215 ft. gain) and Odessa Lake (4.1 miles, 1,215 ft. gain) offer great views. And experienced hikers can try out Flattop Mountain, a difficult 4.4-mile trek up to the Continental Divide, or Hallett Peak, a five-mile hike to the 12,713 ft. summit.
Elevation: 9,475 ft.
Directions: Trailhead is at the end of Bear Lake Road. In the summer, take the shuttle bus to the Bear Lake Shuttle Lot to avoid the trailhead's crowded parking lot.
Deer Ridge Trailhead
The spectacular Deer Mountain trail can be reached from this trailhead. The 3 mile, moderate trek offers great views of the east side of Rocky Mountain National Park.
Elevation: 8,930 ft.
Directions: The trailhead is located at the junction of Highways 34 and 36.
Fern Lake Trailhead
Trails around Fern Lake range from easy to moderate. Starters can take the 1.7 mile hike to The Pool, a large body of water surrounded by steep rock walls in the Big Thompson River. Or they can take an easy 2.5 mile route to Fern Falls. Moderate hikers will enjoy the views from the 3.8 mile trail to Fern Lake or the 4.6 mile trail to Spruce Lake. Visitors can also access Odessa Lake with a moderate 4.9 mile hike, but the trail is best hiked starting at Bear Lake and ending at Fern Lake.
Elevation: 8,155 ft.
Directions: The road across from the Moraine Park Museum leads up to the trailhead.
Glacier Gorge Trailhead
Another popular trailhead in Rocky Mountain Park, Glacier Gorge allows visitors to access a variety of trails. Hikers looking for something easy can try out hikes to Alberta Falls (.6 mile), Sprague (3.1 miles), Mills (2.5 miles), and Jewel lakes (3 miles) and The Loch (2.7 miles). Moderate hikers will like the trails to Black Lake (4.7 miles, 1,390 ft. gain), the Lake of Glass (4.2 miles, 1,580 ft. gain) and the beautiful Timberline Falls (4 miles, 1,210 ft. gain). The trails up to Andrews Glacier (4.7 miles, 2,150 ft. gain), Sky Pond (4.6 miles, 1,660 ft. gain) and Boulder Brook (3.3 miles, 1,000 ft. gain) are also great moderate hikes.
Elevation: 9,240 ft.
Directions: Trailhead is located less than 1 mile before Bear Lake along the Bear Lake Road. The parking lot is very small. Visitors should try to take the shuttle from the Bear Lake Shuttle Lot in the summer.
Lawn Lake Trailhead
The Lawn Lake trailhead offers several trails for more experienced hikers. The moderate 6 mile trail up to Lawn Lake is great for viewing wildflowers. A moderate 4.5 mile trail leads to Ypsilon Lake, and a more difficult 7.7 mile trail takes hikers up to Crystal Lake.
Elevation: 8,540 ft.
Directions: Head about half a mile north of Highway 34 on Fall River Road to reach this trailhead.
Lily Mountain Trailhead
Hit the easy Lily Mountain trail for a quick 1.5 mile stroll with great views.
Elevation: 8,780 ft.
Directions: South of Estes Park on Highway 7, the trailhead is about 2.5 miles past Marys Lake Road.
Longs Peak Trailhead
Beginners can start with the trail to Eugenia Mine from this trailhead. An easy 1.4 miles, the trail leads to the site of an old mining operation. More moderate hikes lead to Chasm Lake (4.2 miles, 2,360 ft. gain), up Granite (4.2 miles, 2,360 ft. gain) and Storm (3.7 miles, 340 ft. gain) passes and up the Estes Cone (3.3 miles, 1,606 ft. gain).
Elevation: 9,400 ft.
Directions: Trailhead located 7.5 miles south of Estes Park on Highway 7.
Mill Creek Basin Trailhead
Visitors seeking an alternative to the busy Bear Lake area can check out the easy 1.7 mile trail at Mill Creek Basin.
Elevation: 8,400 ft.
Directions: Trailhead is about 6.5 miles from Beaver Meadows on Bear Lake Road. Take the Hollowell Park turn-off.
Storm Pass Trailhead
The Storm Pass trail is a moderate 5 mile hike with views of beautiful Glacier Creek.
Elevation: 9,110 ft.
Directions: Trailhead is 6.4 miles from Beaver Meadows on Bear Lake Road.
Twin Owls Trailhead
Several easy trails to Gem Lake (1.8 miles), the unique formation of Balanced Rock (3.2 miles) and Black Canyon (3.3 miles) start at this trailhead. Hikers can also access the difficult Potts Puddle trail (7.5 miles, 3,014 ft. gain) to reach a large pond in a secluded valley.
Elevation: 7,920 ft.
Directions: This trailhead is just north of Estes Park on Devils Gulch Road, near historic MacGregor Ranch.
Upper Beaver Meadows Trailhead
An easy two-mile hike up to the Windy Gulch Cascades is a great trail for beginners. The 5.9 mile Beaver Mountain Loop is a good moderate hike and also a great place to see elk.
Elevation: 8,520 ft.
Directions: The trailhead is about a half mile west of the Beaver Meadows entrance on Highway 36.
Ute Trail Trailhead
Tombstone Ridge is an easy tundra walk of about 1 mile, perfect for beginners. The Upper Beaver Meadows trail is more difficult, a moderate, 6 mile trail that can be hard on the knees.
Elevation: 11,760 ft.
Directions: The trailhead, which has very little parking, is about 2 miles above Rainbow Curve along Trail Ridge Road.

Places to Stay & Fun Things to Do
Machin's Cottages in the Pines Inside Rocky Mountain National Park


Scenic views: wildlife out your door. Secluded. Near Estes Park, stay in deluxe, beautiful, clean cottages. Machin's is inside Rocky Mountain National Park, fresh mountain air and hiking trails! WiFi hot-spots.
Winding River Resort Village: A Family Destination




160 acres near Grand Lake, the Resort Village borders Rocky Mountain National Park along a winding river. A family reunion destination: Cabins, campsites, lodge room. Vacation with your horse! Free WiFi.
More Activities & Information
Estes Park, Colorado includes: Drake
---
Hiking Trails in Colorado