Colorado Hiking & Backpacking Trails
Rifle Hiking Trails & Waterfalls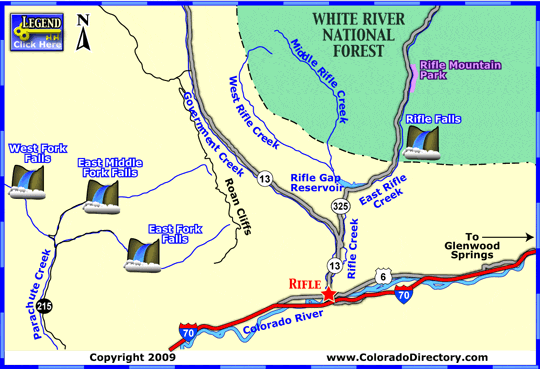 Looking for some of the prettiest trails in Colorado? Take a look at Rifle.
Some of the most beautiful trails in the state can be found at Rifle Falls State Park. Home to three beautiful waterfalls and natural limestone caves, the park is a great place for day hikes, picnics, fishing and other outdoor activities.
Three main hiking trails are available for exploring the park. The most popular — and typically the most crowded — trail is the Coyote Trail. The 1.5-mile trail offers beautiful views of Rifle Falls from below and above and allows access to the falls and the shallow, naturally-formed grottos. Bring a flashlight — these caves are fun and safe to explore! Coyote Trail is ADA accessible and of moderate difficulty.
Bobcat Trail is another option for hikers. Running parallel to East Rifle Creek, it links Rifle Falls State Park with the nearby Rifle Falls State Fish Hatchery. The moderate, 1-mile trail is perfect for anglers, offering access to secluded fishing spots along the creek as well as trout-stocked managed fishing ponds closer to the hatchery.
Squirrel Trail also wanders through Rifle Falls State Park. The 1.5-mile trail meanders along Rifle Creek, eventually offering a nice overlook of the valley below. The first quarter-mile of the moderately difficult trail is ADA accessible.
For hikers looking for a little more peace and quiet, check out the falls outside the park — West Fork, East Fork and East Middle Fork Falls. They're harder to access than the falls inside the park, but that also means they're less crowded. Or try visiting Rifle Falls State Park in the off-season or during the work week to avoid the summer and weekend rush.
Directions: From Rifle, travel north on State Highway (SH) 13 to County County Road (CR) 325. Turn right and continue to Rifle Gap Reservoir on CR 325. Pass over the damn and continue past Rifle Fish Hatchery.
More Activities & Information
Rifle, Colorado includes: Battlement Mesa, Parachute, Silt
---
Hiking Trails in Colorado