Colorado Scenic Byways Map
Santa Fe Trail Scenic Byway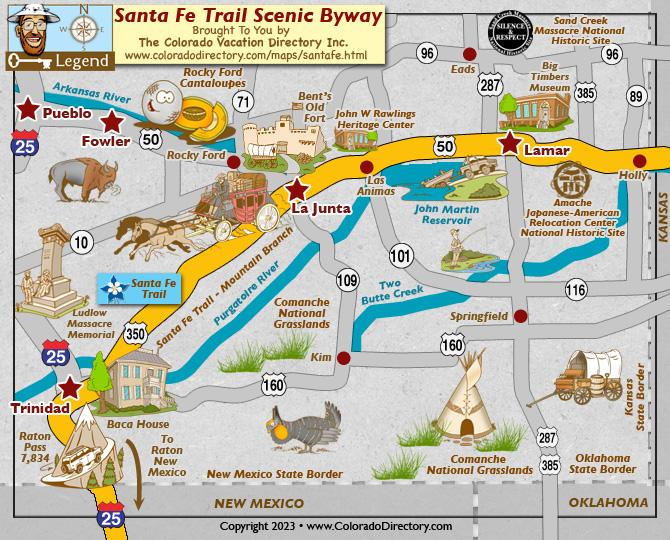 Santa Fe Trail Scenic Byway
The Santa Fe Trail was an international corridor between the United States and Mexico from 1821-1846. American Indians, Spanish explorers, pioneer traders, military personnel, ranchers, miners, railroad passengers and Victorian merchants once traveled the trail. Trappers, both American and French, hunted for beavers in the area, and Buffalo Bill Cody and Jedediah Smith explored the area, encountering many adventures. Today, you can travel the Santa Fe Trail Scenic Byway, which follows the original trail very closely. On a clear day, you can still see wagon wheel ruts cutting across the prairie. It covers 188 miles from the Kansas border, through Colorado, to the New Mexico border. Give yourself 4 hours to travel the byway.
Trinidad hosts the Santa Fe Trail Days, which occurs in June. Here, living history presentations are given by the residents of Trinidad. Mariachi bands travel around the festival, providing a cultural atmosphere. Other activities include a chili cook-off and a children's area with a climbing wall, super slide, skateboard demos, alpaca (llama) petting zoo and other activities that explore the history of the Santa Fe Trail. Lamar also hosts Lamar Days, and La Junta hosts Early Settler Days. Both of these festivals explore the culture and history of the region.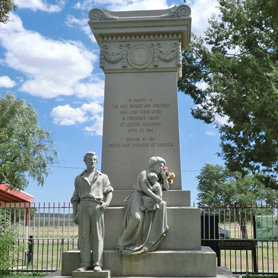 There are also museums in the area that explore history. The Koshare Indian Museum in La Junta displays Native American art. At this museum you can also see the Koshare Indian dancers. Koshares are not an Indian tribe, but a Boy Scout troop. During dances, these black-and-white striped characters portray unacceptable behavior and provide entertainment while reinforcing community values.
Two National Areas are located along the byway. The Comanche National Grassland covers over 435,000 acres in the southeastern corner of Colorado. This area offers many opportunities for recreation. Bent's Fort, located between La Junta and Las Animas near Lamar, was a trading spot during the 1800s for Native Americans and trappers. Here, you can explore more history of the old trading post life.

Places to Stay & Fun Things to Do
La Junta KOA: RV Sites, Camping Cabins, Tiny Home, Tenting & Camper Trailer

Straddling the Santa Fe Trail, this high plains KOA is on the western edge of La Junta. Stay in a camping cabin, tiny home, full hookup RV sites, tenting site. KAMP K9, summer pool, WI-FI. Near Bent's Old Fort.
More Activities & Information
Fowler, Colorado includes: Rocky Ford
La Junta, Colorado includes: Bent's Old Fort National Historic Site, Branson, Las Animas
Lamar, Colorado includes: Eads, Springfield, Campo
Pueblo, Colorado includes: Pueblo West
Trinidad, Colorado includes: Aguilar
---
Scenic Byways in Colorado