Colorado Scenic Byways Map
Flat Tops Trail Scenic Byway
Meeker and Yampa, the endpoints of the byway, embody interesting history and an old western tradition that provide visitors with a unique look into the lifestyle of the old west. The town of Meeker was named after an Indian agent who was killed during a Ute uprising in 1878 over land and wildlife disputes. He was a village poet, war correspondent, columnist, and founder of the Colorado Agricultural Cooperative.
The byway slices through the heart of the original White River Plateau Timberland Reserve eventually becoming White River National Forest. Twenty years later, development of any kind was banned in the Flat Tops Wilderness Area, including Trapper's Lake. The restrictions on development in this area have helped to protect it, providing a pristine preservation of wildlife with beautiful scenery for visitors to enjoy. It is home to the largest indigenous herd of elk in the world.
Both Meeker and Yampa have a resistance to change, as is evidence by the old mines and ranches still in use. This, coupled with their remote locations, breeds a certain charm. Visitors will feel they are being transported back to the times of the old west, as they are immersed in the lifestyle that lives on there today. The people are very proud of their tradition.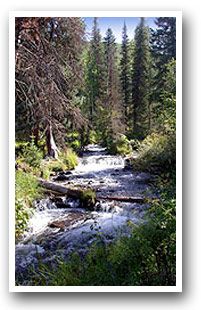 The byway is open all year round, and offers fishing along the White River, camping, hiking, and horseback riding in the various ranches that are still in operation. For the adventurous ones, raft the Yampa River. With the pristine scenery and rich western tradition, the area is also a photographer's dream. Whether it's the people or the wildlife, there is something unique to capture here and preserve on film.
Location: From Meeker, head two miles west on Highway 13, turn right onto Country Road 8, and follow the signs for the byway. It is 82 miles (40 of which are unpaved, but still accessible to any vehicle) long and will take about 2 hours to drive. Be aware, you'll have to cross over Ripple Creek Pass standing at 10,343-feet before getting to Yampa.
More Activities & Information
Meeker, Colorado includes: Buford, Trappers Lake
Yampa, Colorado includes: Bond, Burns, McCoy, Oak Creek, Phippsburg
---
Scenic Byways in Colorado