Colorado Scenic Byways Map
Colorado River Headwaters Scenic Byway
Colorado River Headwaters Scenic Byway
The prospect of gold disturbed everyone's minds in the late 1800's, and what better place for collecting gold, than the mighty Colorado River. However, as time went on, the disappointment of poverty forced miners to reconsider their options. With an area flaunting the Colorado River and three large lakes, what better than to open resort towns to offer rest and relaxation. Others opted to farming and ranching and this use of the land continues. Discover the beauty of the Colorado River and surrounding areas on this 80-mile byway.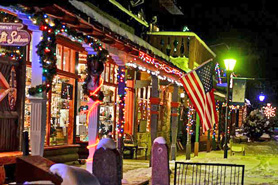 The byway pays tribute to one of the mightiest rivers in the western United States. It begins at the headwaters of the Colorado River. Though the byway only travels 80 miles of the river, the river itself runs another 1,320 miles to provide water to the southwestern states of Utah, Wyoming, California, Arizona, New Mexico, and Nevada. The river also has many points where it resembles a soothing brook, tumbling down green meadows and into gorges.
Be sure to visit the Hot Springs in Hot Sulphur Springs where the Ute Indians came to cure rheumatism and arthritis. Many legends still surround these areas where Native Americans lived and hunted. Today, these springs still warm and soothe the body.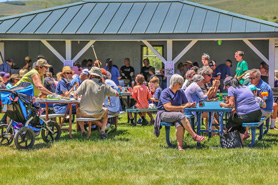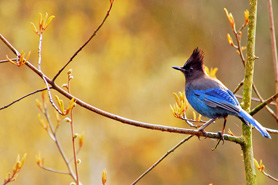 Don't miss the Three Lakes Reservoir. Here, Grand Lake, Shadow Mountain Lake, and Lake Granby make up the largest reservoirs in the area, providing abounding water recreational activities. Fishing, camping, boating, Hiking, and swimming are some favorite activities of the area. The Colorado River also boasts Gold Metal Water. This means that the river is home to many trout considered to be trophy size. Downstream from Granby is Troublesome Creek where many try their luck at catching a trophy trout. The river also provides rafting, as well as canoeing.
Location: Start in Grand Lake just outside of Rocky Mountain National Park and travel southwest through Granby, Hot Sulphur Springs, Parshall, Kremmling You'll come to the end of the byway at State Bridge.
Places to Stay & Fun Things to Do
High Country Stampede Rodeo


2023 Saturdays: July 1st-August 12th in Fraser: Colorado High Country Stampede: Roping, Breakaway, Bull, Barrel and Bareback Riding, Saddle Broncs, Pole Bending, Steer Wrestling. Voted Best New CPRA Rodeo 2021!
Hot Sulphur Springs Chamber of Commerce


In Grand Country, along the Colorado Headwaters Scenic Byway Hot Sulphur Springs, this quiet town has soaking pools. Arapahoe National Forest: hike, fish, horseback ride, cross-country ski, snowshoe.
Kremmling Area Chamber of Commerce: Year-Round Recreation


Kremmling, Colorado along the Colorado River Headwaters Byway in the heart of Colorado high country! VACATION YEAR-ROUND: Reservoirs, rivers, national forests, ranch land, narrow canyons, and wildlife.
On The Trail Rentals: ATVs, UTVs and Snowmobiles


RENT at the trailhead near Grand Lake and National Forest! Unguided and guided snowmobiling, 130 miles of groomed trails. In Summer trails are great for Side-By-Side ATVs. Start your adventure here!
Red Mountain RV Park

Full service RV Park in Kremmling. The Red Mountains has 100+ miles of ATV trails, start here. Fish the Colorado River! WiFi. 40 miles to Summit County and Rocky Mountain National Park. OPEN ALL YEAR!
More Activities & Information
Grand Lake, Colorado includes: Granby, Ski Granby Ranch
Hot Sulphur Springs, Colorado includes: Parshall
---
Scenic Byways in Colorado