Colorado Scenic Byways Map
West Elk Loop Scenic Byway
West Elk Loop Scenic Byway
The late 1800s brought prospectors and miners from all over the country. When the hills had given up their gold, many of the miners stayed to help build and maintain towns by ranching. The area of Carbondale was one of these places. The West Elk Loop starts at Carbondale and travels through Paonia, Hotchkiss, Crawford, Gunnison, and Crested Butte. The byway covers 205 miles and takes 6-8 hours to travel.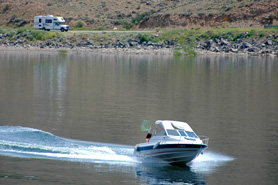 This byway circles dazzling scenery. The mountain ranges and alpine wildflowers bring nature to you, and the farms and cattle ranches commemorate those who began here. The Black Canyon of Gunnison is the only canyon with such a narrow opening, steep walls, and gigantic depth. Its twin summit of Mount Sopris also towers at 12,953 feet over the town of Carbondale, the Roaring Fork and the Crystal River flowing beneath it.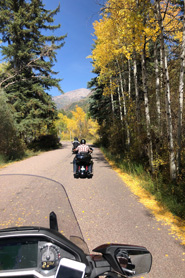 Carbondale is the gateway to Highway 133 just off Highway 82. One of Colorado's secret geothermal springs is hidden here -- Penny Hot Springs; named after it's original owner Dan Penny. Dan's hotel and bathhouse are long gone, but those "in the know" still find the pools of warm water waiting for them along the Crystal River. This Free soaking area is easy to find from Highway 133, near Carbondale, as it follows Crystal River. Just north of milepost marker 55 there is a parking area on the west side of the highway. You know you are in the right spot if you smell sulfur as you're gathering your towels and picnic.
The Yule Marble Fabrication Factory in Delta, Colorado uses Colorado Marble to produce tiles, slabs and blocks and is the largest marble finishing factory in the United States of America. You can also see and purchase sculptures in Marble, Colorado by local artisans.
Places to Stay & Fun Things to Do
Almont Resort - A Family Resort

A mountain vacation resort in Almont for your family! Fish, Saddle, Paddle while enjoying our riverfront cabins and large homes between Gunnison and Crested Butte. Restaurant: breakfast, lunch, dinner.
Avalanche Outfitters at Redstone Stables



Redstone CO, Ruby of the Rockies! Avalanche Outfitters is a western horseback riding destination: back country trail rides, overnight pack trips, winter sleigh rides. New 2022 horse-drawn carriage dinner rides.
Marble Crystal River Chamber

Along the West Elk Loop Scenic Byway, Marble CO is the gateway to Beaver Lake State Wildlife Area. On the Western slope of the Rocky Mountain between Carbondale and Paonia State Park off Highway 133.
Redwood Arms Motel and RV Park

Walk to river fishing! Redwood Arms Motel is 4 minutes from Paonia along The West Elk Scenic Loop Byway. Country quaint rooms: spacious, air conditioned, DirecTV, HBO, WiFi. RV Park: full Hookups.
Three Rivers Resort & Outfitting Raft, Fish, Kayak



A Riverside Resort: vacation cabins, RV Sites, Pro-Fly Shop. Outfitting on Three Rivers: Fish, Raft, Kayak. 10 miles north of Gunnison in Almont, CO. Summer: Smokehouse Grill. Plently of winter recreation!
More Activities & Information
Crystal River Valley, Colorado includes: Carbondale, Marble, Redstone
Gunnison, Colorado includes: Almont, Blue Mesa Lake, Ohio City, Parlin, Pitkin, Sargents, Sapinero, Taylor Park, Waunita Hot Springs
Montrose Area, Colorado includes: Cimarron, Olathe
North Fork Valley, Colorado includes: Hotchkiss, Paonia, Somerset
---
Scenic Byways in Colorado