Colorado Scenic Byways Map
Cache la Poudre - North Park Scenic Byway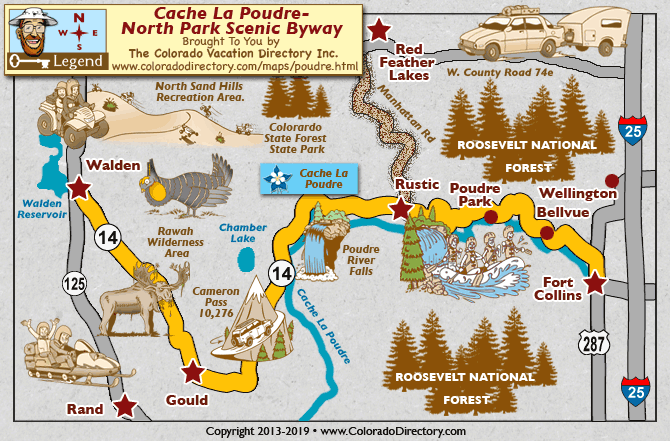 Once used as a transit corridor for Native Americans and white explorers, the road from Fort Collins to Walden still provides useful travel across the north central region of Colorado. The lands of North Park were once home to thousands of bison that wandered the plain. Now, deer, antelope, elk, moose, beaver, and coyote inhabit these lands. Now, the Cache la Poudre is intensively managed for importing, storing and conveying water. The byway starts in Fort Collins and takes you through Roosevelt National Forest along the Poudre River, through Poudre Canyon up to Cameron Pass and descending to North Park.
The Cache La Poudre byway travels through the mountainous north central region of Colorado. Here you can see unique formations from the earthquakes of many years ago. The Nokhu Crags reach 12,485', thrusting toward the sky. Glaciers once passed over the crags, creating high mountain lakes. From the byway, the Medicine Bow Mountain Range of Wyoming is visible. The Arapahoe National Wildlife Refuge is a popular spot for bird watching. Established for the breeding of and creating a habitat for migratory birds, you might be able to spot Wilson's phalarope, American avocet, willet, sandpipers, yellowlegs, dowitchers, sage grouse, golden eagles, and hawks. Don't miss North Park, Colorado's northernmost natural park. This area is essentially a high elevation grass land.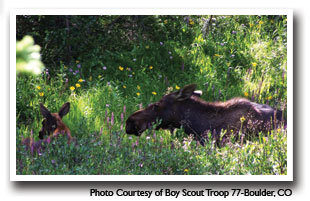 Outdoor lovers will want to be sure to visit Rawah Wilderness Area. Composed of 73,068 acres, U-shaped glacier-carved valleys and peaks reaching 12,951 feet cover the area. Snow melt fills the 26 lakes of the region, each stocked with rainbow, cutthroat, and brook trout. Over 75 miles of trails provide hiking, horse or bicycle access. Grey Rock, Hewlett Gulch, Young Gulch, Mount McConnell, Dadd Gulch and Roaring Creek trails begin in the recreational corridor and lead into Roosevelt and Arapaho National Forests. In the fall many deer and elk hunters visit the region. You can also enjoy other activities like backpacking, climbing, kayaking, canoeing, rafting, horse packing, bird watching, and stargazing. Winter sports abound in the high country. Many Forest Service roads and trails are converted to snowmobile and cross-country skiing paradises. The Poudre River provides some of the most outstanding fishing in the north central region of Colorado.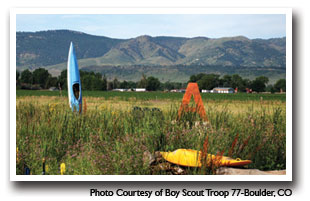 Places to Stay & Fun Things to Do
Archer's Poudre River Resort, Cabins, Camping, Store


Along the Cache La Poudre River, Archer's Resort has cabins, RV and tent sites, central hot tubs, camp store, Canyon Grille. A private Island tent site! Aspen grove WEDDINGS! 35 miles west of Fort Collins.
Rocky Mountain Adventures: Rafting Trips, Kayak Instruction, Gear Rentals and Retail Shop


Rocky Mountain Adventures start in Fort Collins: whitewater rafting, SUPing, kayaking, river tubing on the Cache la Poudre River, designated Wild and Scenic. Winter rentals sledding gear, XC skis, snowshoes.
More Activities & Information
Fort Collins, Colorado includes: LaPorte, Wellington, Windsor
Poudre River Canyon, Colorado includes: Bellvue, Glendevey, La Porte, Rustic
Red Feather Lakes, Colorado includes: Livermore, Virginia Dale, Tie Siding WY
Walden (North Park), Colorado includes: Gould, North Park Area, Rand
---
Scenic Byways in Colorado