Poudre River Canyon - North Central Colorado
Includes Bellvue, Glendevey, La Porte, Rustic
Designated Colorado's first National Wild and Scenic River in 1986 and the state's only National Heritage Area in 1996, the Poudre River Canyon, also known as Cache la Poudre, is a remarkable spot in the midst of the Roosevelt National Forest. The Poudre River runs along Highway 14, Cache la Poudre/North Park Scenic Byway, in northwestern Colorado.
In 1840, French trappers camped at the mouth of the canyon, just west of Fort Collins. When a heavy snow fell and they had to reduce their load, the French men buried their gun powder along the river's banks - forever giving it the name "Cache la Poudre."
Eventually, the river would go on to play a pivotal role in the development of Colorado and its water laws, which have served as a model for many Western states. The river is also known for its innovations in water delivery systems, such as the Greeley #3 irrigation ditch and Bellevue's Hydrology Laboratory, which developed an important system for measuring and distributing Colorado's waters. To honor these contributions, the river was the first spot west of the Mississippi to be designated a National Heritage Area. Spanning 45 miles, the area runs from the edge of Roosevelt National Forest to just east of Greeley.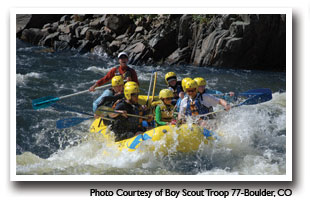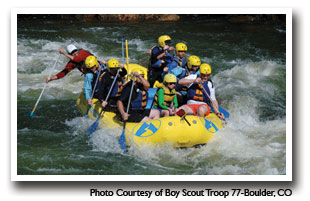 Today, the river is best known for its fishing. Brown and rainbow trout are plentiful, and the river's rapids are also home to countless whitewater rafters and kayakers. Some areas of the river are "Wild Trout" sections where bait fishing is not allowed.
Hiking is also popular in the Comanche Peak Wilderness, the Rawah Wilderness, the Neota Flat Tops Wilderness and in Roosevelt National Forest. There is access to hiking trails into the backside of Rocky Mountain National Park.
In winter, vacationers try one of the many cross-country ski trails in the breathtaking high peaks of the Cameron Pass area at 10,276'.
Poudre River Canyon is near: Fort Collins, Walden (North Park) & Red Feather Lakes Area

Featured Poudre River Canyon Businesses
Archer's Poudre River Resort, Cabins, Camping, Store
Along the Cache La Poudre River, Archer's Resort has cabins, RV and tent sites, central hot tubs, camp store, Canyon Grille. A private Island tent site! Aspen grove WEDDINGS! 35 miles west of Fort Collins.














---
Glen Echo Resort - Along the Cache La Poudre River
Family Vacation Resort: mountain homes, cabins, shaded full hookup RV sites, tent sites, Glen Echo Store, Restaurant, Pub. Along beautiful Cache La Poudre River -- Colorado's Trout Route. Open all year!






---
Poudre River Canyon Activities & Maps
Scenic Byways:
Cache la Poudre - North Park Scenic Byway

Fishing:
Red Feather Lakes & Poudre River Fishing Map

Rafting & Kayaking:
Cache la Poudre River Rafting & Kayaking

---