Colorado Whitewater Rafting & Kayaking
Cache la Poudre River Rafting & Kayaking
Rafting & Kayaking the Cache La Poudre River
The name Cache la Poudre means "Hiding Place of Powder". In the 1820's, French fur trappers were caught in a blizzard. Here, they buried their gunpowder in a hiding place along the banks of the river to lighten their load.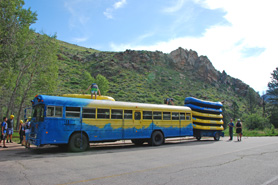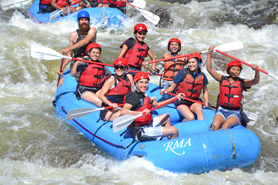 Today, the Cache la Poudre River is the only designated National Wild and Scenic River in Colorado, offering a protected and unspoiled environment for water activities. The river starts in Rocky Mountain National Park along the Continental Divide and runs through Roosevelt National Forest, just northwest from Fort Collins and an hour drive from Denver. Many come between May and August to enjoy the rafting and kayaking adventures that this river offers. The intensity of the rapids vary from intermediate to advanced intermediate, offering class II, III, and IV rapids.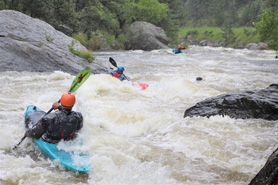 Kayakers are familiar with the challenging runs of the upper stretches of the Cache La Poudre River. On the lower part of the river, there is almost continuous whitewater with technical rapids, steep drops and beautiful scenery. Class IV+ rapids along Mishawaka and Pineview Falls provide a rush of adrenaline for experienced whitewater rafters. Family oriented trips also start below the falls, offering a more relaxed whitewater experience.
The International Rapid Rating Scale:
Class I: Easy. Fast moving water with riffles, small waves.
Class II: Novice. Straightforward rapids, wide, clear channels.
Class III: Intermediate. Rapids, moderate, irregular waves.
Class IV: Advanced. Intense, powerful rapids, precise boat handling.
Class V: Expert. Long, obstructed, violent rapids.
Places to Stay & Fun Things to Do
Rocky Mountain Adventures: Rafting Trips, Kayak Instruction, Gear Rentals and Retail Shop


Rocky Mountain Adventures start in Fort Collins: whitewater rafting, SUPing, kayaking, river tubing on the Cache la Poudre River, designated Wild and Scenic. Winter rentals sledding gear, XC skis, snowshoes.
More Activities & Information
Estes Park, Colorado includes: Drake
Fort Collins, Colorado includes: LaPorte, Wellington, Windsor
Poudre River Canyon, Colorado includes: Bellvue, Glendevey, La Porte, Rustic
Red Feather Lakes, Colorado includes: Livermore, Virginia Dale, Tie Siding WY
---
Rafting & Kayaking in Colorado