Colorado Whitewater Rafting & Kayaking
Gunnison River Rafting & Kayaking
The Gunnison River begins high in the mountains near Grand Junction as a clear mountain stream. As it flows down into the valley, it widens into a shallow, rocky river, passing through Gunnison, Colorado. The Gunnison flows through the Black Canyon of the Gunnison National Park, cutting the sheer walls of the canyon. This is the best place in the world to see exposed Precambrian rocks with polished protereozoic schist and gneiss formations. As the river continues west, it feeds the huge 35-mile long reservoir of the Curecanti National Recreation Area. The Gunnison Gorge, located just downstream from the National Park, is a raftable section of the Gunnison River. This section is nicknamed the "Baby Grand" because of the scenery that is reminiscent of the Grand Canyon.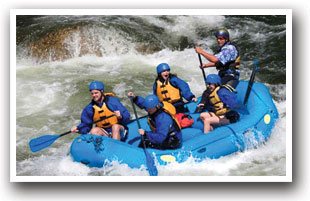 The river is rafted from May to September, filled with many Class II-III+ rapids. The highest water levels occur during May to early June, adding a little intensity to the narrow river passageways. The river is generally mild, and is a great place for family trips.
Getting to the river requires an easy but fairly steep one mile hike to the put in spot. However, the hike is filled with dramatic canyon scenery and amazing views. Because only two groups of twelve people are permitted to raft the Gunnison Gorge each day, you will also be able to experience wonderful solitude.
The canyon's sheer basalt and granite walls make the trip down the fast and furious rapids even more breathtaking. The first 11 miles of the river are interspersed with many Class III rapids, including the Squeeze, the Drops, Cable and The Hall of the River King. You will pass through 14 miles of gold medal trout water, and you can also catch a glimpse of a variety of wildlife, such as bighorn sheep, mule deer, elk, peregrine falcons, and eagles, ringtail cats, marmots, and the endangered river otter.
The International Rapid Rating Scale:
Class I: Easy. Fast moving water with riffles, small waves.
Class II: Novice. Straightforward rapids, wide, clear channels.
Class III: Intermediate. Rapids, moderate, irregular waves.
Class IV: Advanced. Intense, powerful rapids, precise boat handling.
Class V: Expert. Long, obstructed, violent rapids.

Places to Stay & Fun Things to Do
Arkansas River Tours - Family Floats to Extreme Adventures



Family reunions -- Our specialty! Since 1973, 300,000+ happy river guests! ART offers tours for the timid beginner to the experienced veteran on the Arkansas River; in Cotopaxi, between Salida and Canon City.
Arrowhead Mountain Lodge, Restaurant and Bar

SECLUDED year-round in the Uncompahgre National Forest! Arrowhead Mountain Lodge: Restaurant, bar, ATVing, fishing, snowmobiling. Near the Black Canyon between Montrose and Gunnison off US 50.
Blue Mesa Fishing - Guided Lake and Ice-Fishing


A PREMIER FISHING EXPERIENCE in GUNNISON: Guided lake and trolling for Rainbow Trout and Kokanee Salmon on Blue Mesa Reservoir. WINTER Ice-fishing from Mid-December to Late-March.
Kreuger Ranch Cabins

Sports and Relaxation specialist will both be happy: Wild Trout fishing and unguided hunting near Gunnison, Kreuger is a working ranch on 500-acres! Stay in one of our log cabins or bring your RV.
Oleo Ranch - Colorado Vacation Cabins

Each log vacation cabin on Oleo Ranch has its own privacy. Cebolla Creek trout fishing on-site. In the Mountains between Creede and Lake City, Colorado. PETS WELCOME when in designated cabins.
Sportsman Outdoors: Fly Shop, Fly-Fishing Trips, Scenic Tours


In Lake City 50+ years! Full Service Outdoors Stop: Pro Fly Shop, fishing guides, Jeep tours, sportsman equipment rentals, hiking trips, snowshoe tours, trail maps. Soaring mountains, clear streams, wildlife!
Three Rivers Resort & Outfitting Raft, Fish, Kayak



In Almont, CO 10 miles north of Gunnison. Riverside resort cabins and vacation homes on Three Rivers: Taylor, East, Gunnison. Smokehouse Grill open in summer. Pro-Fly Shop. Outfitting: Fish, Raft, Kayak.
More Activities & Information
Gunnison, Colorado includes: Almont, Blue Mesa Lake, Ohio City, Parlin, Pitkin, Sargents, Sapinero, Taylor Park, Waunita Hot Springs
Montrose Area, Colorado includes: Cimarron, Olathe
---
Rafting & Kayaking in Colorado