Colorado Whitewater Rafting & Kayaking
Upper Colorado River Rafting & Kayaking
The Colorado River starts high in Rocky Mountain National Park and flows 1,450 miles through Colorado, into Utah and Arizona before emptying in Northern Mexico at the Gulf of California. As you travel down this river through Colorado, you will experience many exciting sites, such as dinosaur tracks, old stagecoach trails, as well as many spectacular scenic views.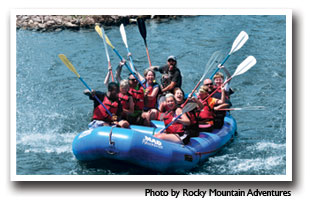 The Upper Colorado River is just outside Kremmling, gently flowing through non-intimidating whitewater. Most of the rapids are Class II and III. The upper region is also home to 54 reservoirs. The scenery ranges from natural to rural, including meadows, valleys, steep slopes and jagged cliffs. The Little Gore Canyon and the Red Eye and Screaming Left Turn rapids are points of interest along the Upper River. This section is enjoyable for all ages!
The International Rapid Rating Scale:
Class I: Easy. Fast moving water with riffles, small waves.
Class II: Novice. Straightforward rapids, wide, clear channels.
Class III: Intermediate. Rapids, moderate, irregular waves.
Class IV: Advanced. Intense, powerful rapids, precise boat handling.
Class V: Expert. Long, obstructed, violent rapids.

Places to Stay & Fun Things to Do
A Liquid Descent Whitewater Rafting


Enjoy relaxing float trip or extreme whitewater with Liquid Descent. Rafting trips near Summit County, Winter Park and the Denver Area. Highlights: riverside hot springs, abundant wildlife, gorgeous scenery.
Agate Dog Inc dba Geo Tours Whitewater Raft Trips


RAFT TRIPS. Clear Creek mini-trips; closest to Denver. In the heart of the Rockies, One-day and Multi-day; Arkansas and Upper Colorado rivers. Family to Advanced. Est 1981. Metro based in Morrison.
More Activities & Information
Grand Lake, Colorado includes: Granby, Ski Granby Ranch
---
Rafting & Kayaking in Colorado