Colorado Whitewater Rafting & Kayaking
Yampa River Rafting & Kayaking
The Yampa River trip starts at the eastern edge of Dinosaur National Monument and flows west to Split Mountain Canyon. This river is completely dependent on snowmelt run-off, but when its flowing, this is one of the best river trips in the world. The Yampa offers Class II-IV unforgettable rapids like, "Tepee" and "Warm Springs". The float season for the Yampa is from May through early July, and as always, there are minimum age requirements depending on the classification of whitewater.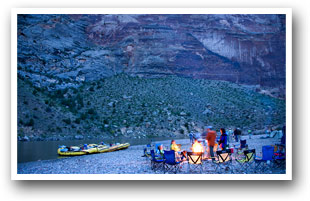 Yampa River State Park and the Yampa River Valley consists of 131 miles of river with 13 public access points stretching from Hayden to the Dinosaur National Monument near the Utah border. Seven of these sites have developed ramps.
The Steamboat Springs Whitewater Park begins with a slalom course on the Yampa River. The course continues with several rapids providing great surfing opportunities. Late May through early July will have ideal river boarding levels and later in the summer, the water levels are lower making it better for tubers and fishermen.
The International Rapid Rating Scale:
Class I: Easy. Fast moving water with riffles, small waves.
Class II: Novice. Straightforward rapids, wide, clear channels.
Class III: Intermediate. Rapids, moderate, irregular waves.
Class IV: Advanced. Intense, powerful rapids, precise boat handling.
Class V: Expert. Long, obstructed, violent rapids.

Places to Stay & Fun Things to Do
O.A.R.S. Colorado Rafting


OUR JOURNEYS SET AN EASY PACE: beach camps, Canyon hikes. Experience Jurassic World on a Colorado Rafting Adventure. O.A.R.S is an authorized concessionaire of Dinosaur National Monument.
Rabbit Ears Motel - Steamboat Springs



Family friendly motel! Rabbit Ears is a mountain experience in downtown Steamboat Springs. Quality and Affordable modern rooms, comfy beds. Dreams are sweeter by the Yampa River - private balconies!
More Activities & Information
Craig, Colorado includes: Hamilton, Maybell
Steamboat Springs, Colorado includes: Clark, Columbine, Hahn's Peak, Hayden
Yampa, Colorado includes: Bond, Burns, McCoy, Oak Creek, Phippsburg
---
Rafting & Kayaking in Colorado