Colorado Whitewater Rafting & Kayaking
Dolores River Rafting & Kayaking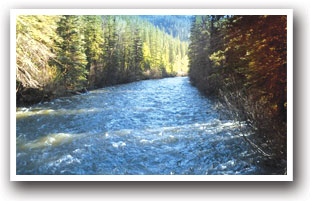 The Dolores River is located in southwestern Colorado 30 miles northwest of Cortez and Mesa Verde National Park. The river starts in the San Juan Mountains and runs to the Colorado River. The river passes through amazing scenery, encompassing the alpine zone filled with Ponderosa pines at the river's headwaters to the Upper Sonoran desert terrain accentuated with red and orange sandstone cliffs along its lower reaches.
The Ponderosa Gorge, Slickrock and Gateway Canyons come together to create one of the longest raft trips in the West. The Gateway Canyon cuts through the Paradox and Mesa Canyons, where you can view remnants of an almost unbelievable "Hanging flume." This section of the river also includes Paradox Valley, an interesting geologic phenomenon where the river cuts across the valley rather than through the middle of it.
As the river continues through Colorado, the Slickrock section of the river is a mild water scenic desert wilderness trip. Along this section of the river you can view the Indian petroglyphs, carved into the sheer sandstone walls. The river then opens into the 29,000 acre Dolores River Canyon Wilderness Study Area. As you exit the canyon, you will view the salt block formation known as Big Gypsum Valley. Here, the massive sheer rock wall reaches over 1,000 feet tall.
As the river enters the Ponderosa Gorge, the canyon deepens. The sandstone walls compliment the pinon-juniper, yucca, cactus and shrubs along the gorge. The river hits the "Old Snaggletooth," the most challenging rapid along the river and the miles long House Rock Rapid.
The rapids through the Dolores River range from class II-IV and is raftable from early May to mid-June.
The International Rapid Rating Scale:
Class I: Easy. Fast moving water with riffles, small waves.
Class II: Novice. Straightforward rapids, wide, clear channels.
Class III: Intermediate. Rapids, moderate, irregular waves.
Class IV: Advanced. Intense, powerful rapids, precise boat handling.
Class V: Expert. Long, obstructed, violent rapids.

Places to Stay & Fun Things to Do
Naturita - A Vacation Destination to Trails and Adventure


Big Things Happen in -- Little Nature -- Rimrocker Trail, Buckeye Reservoir, Unaweep Tabeguache Scenic Byway, San Miguel River, wildlife, ancient petroglyphs, hike, fish, ATV, mountain bike, hunt, raft.
Town of Nucla - A Vacation Destination to Trails and Adventure


PLAY in SW CO! Nucla along Unaweep Tabeguache Scenic Byway, Hwy 141: San Juan Mountains and Uncompahgre Plateau, Off-Road Trails - ATV, bike, hike; fish San Miguel River, prehistoric caves and art.
More Activities & Information
Dolores Area, Colorado includes: Mcphee Reservoir, Stoner
Naturita & Nucla Area, Colorado includes: Nucla
---
Rafting & Kayaking in Colorado