Dove Creek - Southwest Colorado
Centrally located in the scenic 4-corners region of southwestern Colorado this area is surrounded by the San Juan National Forest and a short distance from the Dolores River Canyon. To the east the LaPlata's (silver in Spanish) to the north the LaSals, to the west the Abaho's or "Blues" and to the south the "Sleeping Ute."
Dove Creek was little more than a raw frontier town until farmers from the dust bowl in eastern Colorado came to plant their pinto beans. Zane Gray author of "The Last Trail: A Story of Early Days in the Ohio Valley" lived here. A regional landmark is the large concrete bean elevator located on the west edge of town.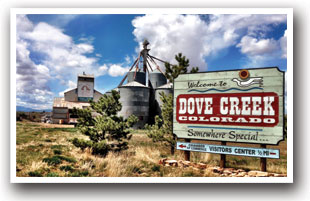 This is the west you've heard about, and read about, with one exception, this is real, it is vast, unspoiled, and spectacular. A rugged wilderness that begs to be seen like the Spanish explorers first saw it. Much of this scenic area can be seen only on horseback or hiking. A short drive away, 40 minutes to Mesa Verde National Park, 90 minutes to Durango and 70 minutes to Telluride.
Dove Creek is near: Dolores, Mesa Verde Area & Norwood
Dove Creek Activities & Maps
National Parks and Monuments:
Canyons of the Ancients National Monument
Hovenweep National Monument

Rafting & Kayaking:
Dolores River Rafting & Kayaking

---