Mesa Verde Area - Southwest Colorado
Includes Cortez, Mancos
The ruins of the Anasazi, a Navajo word meaning "Ancient Ones," are what bring people to this quiet, sun-drenched area. At Mesa Verde National Park visitors walk among the incredible cliff dwellings of these prehistoric Pueblo people. The Anasazi culture flourished here from approximately A.D. 1 to 1300, leaving behind a priceless legacy of their achievements in the famous cliff houses and mesa top villages. The reasons the Ancient Ones abandoned the area remains an enigma, despite decades of research. At one point, more than 40,000 Anasazi lived here.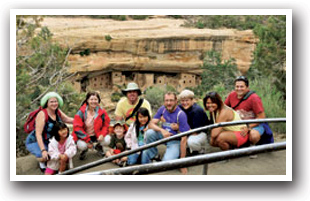 Ten miles west of the park is Cortez, once called by the Navajo "Tsaya-toh" (rock-water) for its spring. Lowry Indian Ruins, 26 miles north of Cortez, contain the largest and best preserved painted Anasazi kivas in world. Hovenweep National Monument, 40 miles west, has its unique Anasazi ruins. Other nearby monuments include Canyon of the Ancients National Monument and the Four Corners Area Monument which is located on Ute Mountain Ute and Navajo Indian reservations, the only place in the United States where four states meet.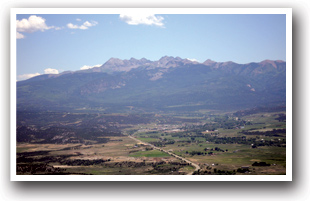 Commercial air travel accommodations are handled by Cortez Municipal Airport. Please contact your preferred travel agent or airline for flight arrangements.
Mesa Verde Area is near: Dolores Area & Durango Area

Featured Mesa Verde Area Businesses
Ancient Cedars Mesa Verde RV Park
The closest full service RV Park to Mesa Verde National Park, across from the Entrance! Ancient Cedars has easy Highway access for BIG RVs, full hookup RV sites, cabins, tent sites. 8 miles East of Cortez.






---
Canyon Trails Ranch - Guided Horse Rides
Family rides to ancient sites on a horse along trails in Canyons of the Ancients National Monument. Guided by Ranchers. 10 miles west of Cortez. LQ Horse Camping: private corrals, electric, and water.



---
Echo Basin Resort - The Four Corners' Premier Cabin and RV Resort
AN IDEAL RESORT DESTINATION: Family vacations with RV sites and cabins. Echo Basin is between Durango and Mesa Verde National Park in Mancos, Colorado -- where Mesas meet Mountains.






---
Mancos State Park
In the San Juan Mountains, near Mesa Verde National Park, Mancos State Park offers: trout fishing, campsites, 2 ultra-modern yurts with propane heat. Jackson Gulch Reservoir: wakeless boats.




---

Pine River Lodge - Overlooking Beautiful Vallecito Lake
YEAR AROUND FUN! Lodge with indoor pool! In the San Juan Mountains along Pine River overlooking Vallecito Lake, cabins and vacation homes with kitchens. Near Durango and Mesa Verde National Park.









---
For more travel information contact:
Mesa Verde Area Activities & Maps
National Parks and Monuments:
Canyons of the Ancients National Monument
Hovenweep National Monument
Mesa Verde National Park

Scenic Byways:
Trail of the Ancients Scenic Byway

Fishing:
Four Corners Area Fishing Map

Jeep & 4WD:
Durango Jeeping & ATV/UTV Trails

Ski Areas & Resorts:
Hesperus Ski Area

Snowmobiling:
Dolores Snowmobile Trails

---