Colorado Snowmobiling
Dolores Snowmobile Trails
Not all towns appear on map. The publisher does not assume any responsibility for accuracy or completeness of maps. This information was compiled as accurately as possible.
Snowmobiling in Dolores
Wildlife lovers and history buffs alike will love the snowmobile trails Dolores has to offer.
More than 100 miles of snowmobile trails, marked and maintained by local snowmobile clubs, stretch across the San Juan National Forest. Filled with wilderness areas and wildlife viewing spots, riders are encouraged to obtain a trail map from Montezuma or Dolores counties or through the Colorado Snowmobile Association. The map lets you know where motor vehicles are allowed so you can stick to the rules and also shows you where to check out native critters.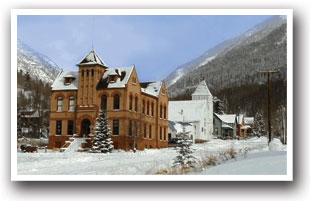 When you're done hitting the trails, check out the Anasazi Heritage Center in Dolores and learn about the Native Americans that used to inhabit the area. Stop by Canyon of the Ancients National Monument, too. The area, filled with ancient Anasazi dwellings and artifacts, has over 20,000 archaeological sites.
Here's how to get started:
To access the Echo Basin trailhead, take Highway 160 east of Mancos and travel north for three miles on County Road 44 to the parking area.
Get to the West Mancos trailhead by taking County Road 42 north of Mancos for seven miles to the parking area.
Both the Groundhog and Boggy Draw trails can be found north of Dolores off County Road 31. The Groundhog trailhead is about 3 miles north of Dolores directly off the road. To reach Boggy Draw, take Forest Service Road 527 east off County Road 31 for one mile to the parking area.
Take Highway 145 north of Dolores for 17 miles and turn off on Forest Service Road 535. Take the road north for seven miles to the parking area.
The Taylor Mesa trail is located about 25 miles north of Dolores on Highway 145. The parking area is at the intersection of the highway and Forest Service Road 545.
Get to the Roaring Forks trailhead by traveling 33 miles north of Dolores on Highway 145. Park at the intersection of Forest Road 435 and the highway.
More Activities & Information
Dolores Area, Colorado includes: Mcphee Reservoir, Stoner
Mesa Verde Area, Colorado includes: Cortez, Mancos
Telluride, Colorado includes: Rico
---
Snowmobiling in Colorado