Colorado Snowmobiling
Kremmling Snowmobile Trails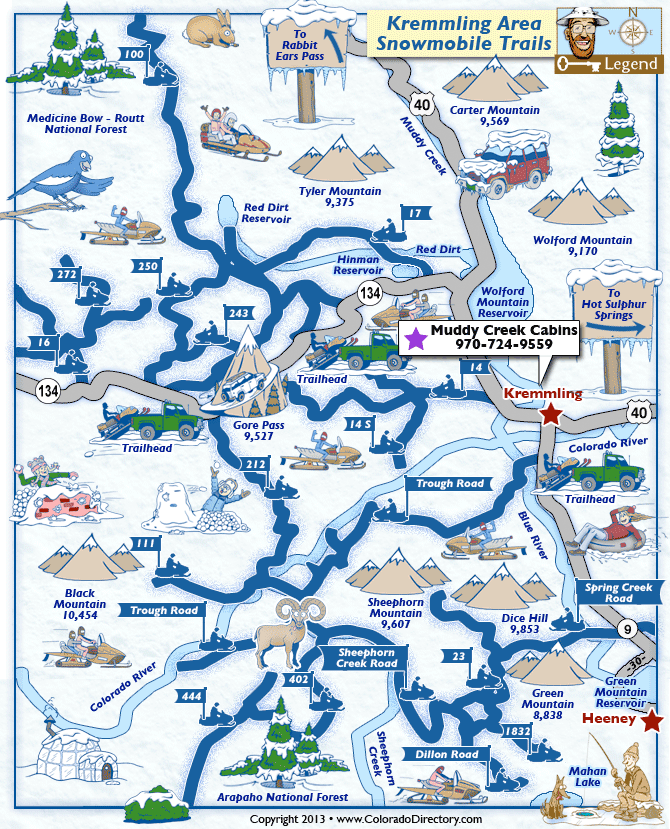 Not all towns appear on map. The publisher does not assume any responsibility for accuracy or completeness of maps. This information was compiled as accurately as possible.
Snowmobiling in Kremmling
The Kremmling/Green Mountain area offers 300 miles of snowmobile trails, half of them groomed and many of them near Kremmling. A two hour drive from Denver, Kremmling's snowmobile trails are located in the Routt and Arapaho National Forests and are easily accessible to everyone. To reach the two trailheads for the Gore Pass trails, travel 8 miles north of Kremmling on Highway 40 (Rabbit Ears Pass). Turn left on Highway 134 and continue west until you reach the parking areas.
Pay attention! Sarvis Creek Wilderness Area is nearby, and motorized vehicles are not allowed.

Places to Stay & Fun Things to Do
Muddy Creek Cabins at the Base of Kremmling Cliffs


Classic log cabins on 8 acres in Kremmling, Colorado. Near snowmobiling trails on Rabbit Ears Pass and Gore Pass. Plenty of fishing: lake, river, Muddy Creek. We love Family Reunions! Open year round!
More Activities & Information
Hot Sulphur Springs, Colorado includes: Parshall
Summit County, Colorado includes: Breckenridge, Copper Mountain, Dillon, Frisco, Green Mountain Reservoir, Heeney, Keystone, Silverthorne
---
Snowmobiling in Colorado