Colorado Snowmobiling
Rio Grande Area Snowmobile Trails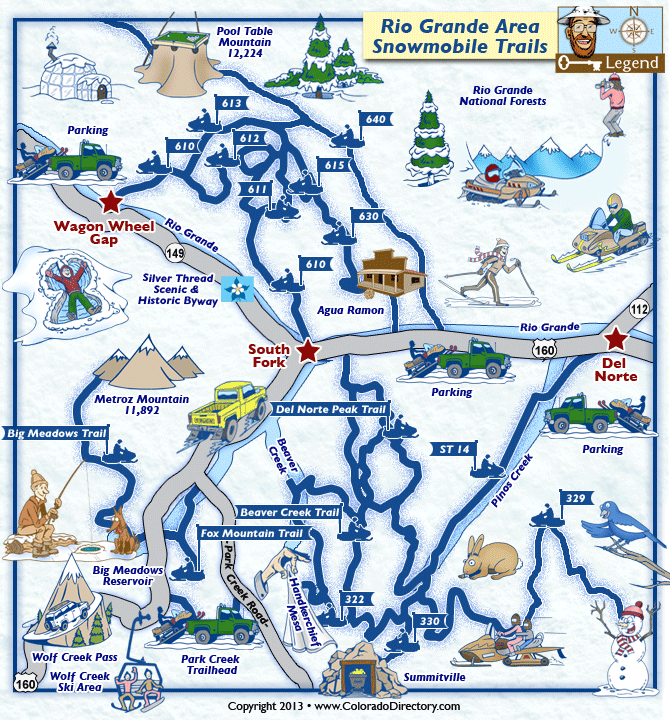 The Rio Grande area contains over 250 miles of maintained and groomed snowmobile trails through the Rio Grande National Forest. The Powder Busters Snowmobile Club and the Silver Threaders Snowmobile Club groom the trails of South Fork. With side trails, open parks, powder-filled meadows, and hills to climb, this area is home to Colorado's supreme snowmobiling.
Trails include:
Del Norte Peak Trail
Beaver Creek Trail
Fox Mountain Trail
Big Meadows Trail
The Del Norte Peak Trail starts at Hwy 160 (8,250') and travels south connecting to the Beaver Creek Trail (12,400'). This trail has plenty of parks and valleys to play in.
The Beaver Creek Trail starts at an elevation of 8,700' and climbs to 11,500'. Beaver Creek Reservoir is nearby where the ice fishing is excellent. This 23-mile loop is recommended for experienced riders only.
The Fox Mountain Trail begins at Park Creek Road and travels south. The top of the trail sits at an elevation of 11,530' where there are large meadows with lots of places to ride.
The Big Meadows Trail travels north off US Highway 160 running about 12 miles up to Metroz Mountain. The ending elevation of the trail is at 11,600'.
Trails are located in the south central/western region of Colorado between Wagon Wheel Gap and Del Norte along US Highway 160 and State Highway 149.

Places to Stay & Fun Things to Do
Riverbend Resort Cabins and RV Park


Between South Fork and Wolf Creek Ski Area; Riverbend Resort is near Pagosa Springs and Alamosa. Year Round Full hookup RV Park. Cabins: fireplaces, decks overlooking privately stocked river frontage.
More Activities & Information
Del Norte, Colorado includes: Monte Vista
---
Snowmobiling in Colorado