Colorado Snowmobiling
Montrose Snowmobile Trails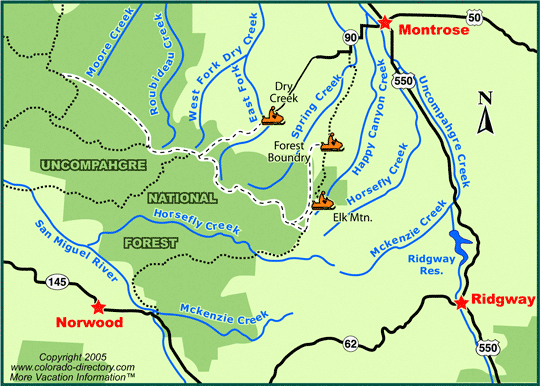 Breathtaking views and gorgeous scenery await snowmobilers in the southwest corner of Colorado.
Just southwest of the town of Montrose, near the Uncompahgre National Forest, groomed and ungroomed snowmobile trails stretch for miles. Choose from three different access trails that lead to Divide Road, which offers 31 miles of groomed riding, 40 miles of ungroomed riding and numerous side trails.
Reach the Spring Creek trail by following Highway 90 west 3 miles from Montrose. Turn left on Dave Wood Road and continue for 11 miles to the parking lot at the forest's boundary. From there, it's seven miles of groomed, marked, uphill riding to Divide Road.
Or continue past the forest boundary for four miles on Dave Wood Road to reach the Elk Mountain trail. Ride two miles of groomed trail from the parking area to reach Divide Road.
If you're looking for something more rugged, try the undeveloped Dry Creek trailhead. Follow Highway 90 southwest of Montrose for 15 miles to the Dry Creek area. The last 6 miles of the road arenπt maintained in winter but are usually well-used and accessible. Park at the top of the hill north of Dry Creek Canyon and follow the groomed trail uphill for 7 miles to Divide Road.
More Activities & Information
Montrose Area, Colorado includes: Cimarron, Olathe
Ouray, Colorado includes: Ridgway
Telluride, Colorado includes: Rico
---
Snowmobiling in Colorado