Colorado Snowmobiling
Durango Snowmobile Trails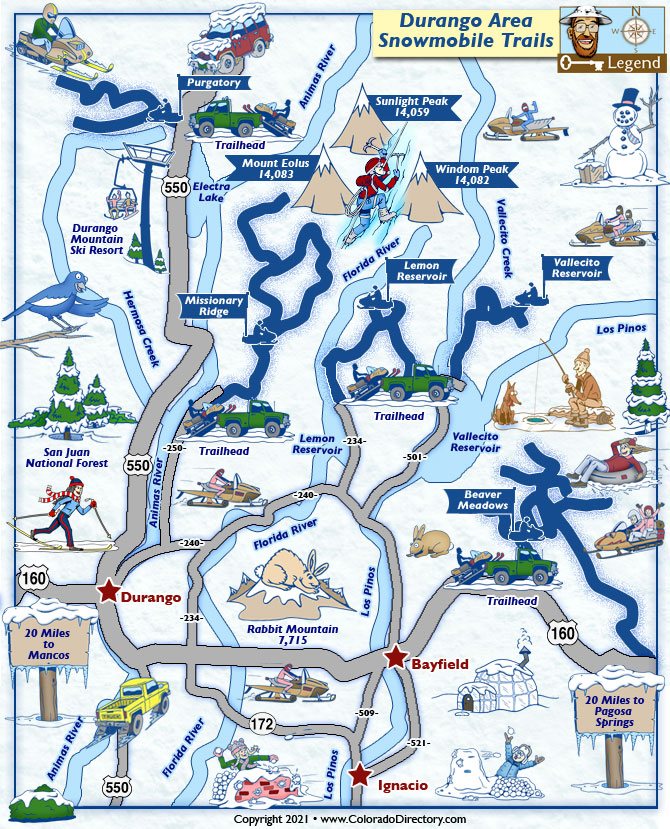 Not all towns appear on map. The publisher does not assume any responsibility for accuracy or completeness of maps. This information was compiled as accurately as possible.
Snowmobiling in Durango
The winter months bring snowmobiling to the Durango Area, and if powder makes the experience, then the San Juan Mountains is the place to be! There are many different terrains to explore in this area from groomed trails to high mountaintops to large meadows for playing. The San Juan Sledders Snowmobile Club maintains the trails.
Trails include:
Purgatory
Missionary Ridge
Lemon Reservoir
Vallecito Reservoir
Beaver Meadows
The Purgatory and Missionary Ridge Trailheads are located north of Durango along Highway 550 and the Beaver Meadows Trailhead is located East of Bayfield along Highway 160.
More Activities & Information
Durango, Colorado includes: Bayfield, Hesperus, Ignacio, Lemon, Vallecito Lake
---
Snowmobiling in Colorado