Colorado Snowmobiling
Lake City & Creede Snowmobile Trails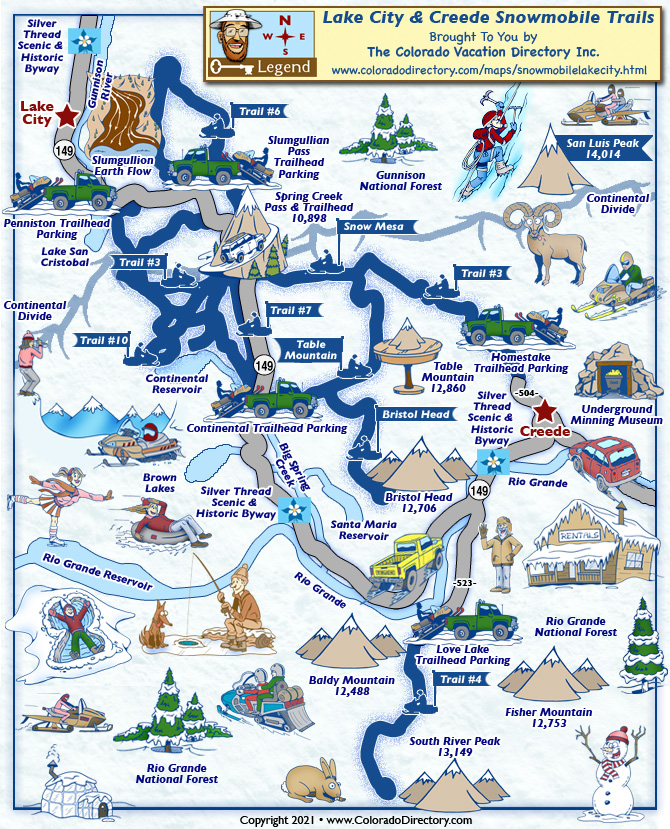 Snowmobiling in Lake City and Creede
Snowmobile trails in the Lake City/Creede Area provide all types of riding adventures; steep mountain passes, open meadows, and soothing groomed riding all make up this system in the Gunnison and Rio Grand National Forests. Spanning from Lake City to Creed crossing over the Continental Divide, the trails in this area total more than 200 miles!
Trails include:
Snow Mesa
Table Mountain
Bristol Head
There is no shortage of excitement or trails in this area. Riders at any experience level can find what they're looking for. Trails are maintained November through March and start at 8,500 feet, rising up to about 13,000 feet. Snow depths can vary in this area from 1-2 feet to 8 or more.
Six trailhead/parking areas:
Penniston
Slumgullion Pass
Continental
Homestake
Love Lake
Spring Creek Pass
The Penniston Trailhead is located 4 miles south of Lake City along Hwy 149 near Lake San Cristobal, Colorado's second largest naturally formed lake. Continue along the highway and you'll find the Slumgullion Pass Trailhead. Homestake Trailhead is just a few miles north of Creede on Road #504. The Love Lake Trail travels 10 miles south off Hwy 149, following Road #523. Continental Trailhead is halfway between Lake City and Creede.

Places to Stay & Fun Things to Do
Alpine Moose Lodge and Cookhouse 14


Spacious lodge rooms, recently upgraded, in Lake City some with king bed. Alpine Moose has best view of the mountains above our historic town. Grill Restaurant Cookhouse has down to earth, everyday food.
More Activities & Information
Lake City, Colorado includes: Powderhorn
---
Snowmobiling in Colorado