Colorado Snowmobiling
Grand Lake Snowmobile Trails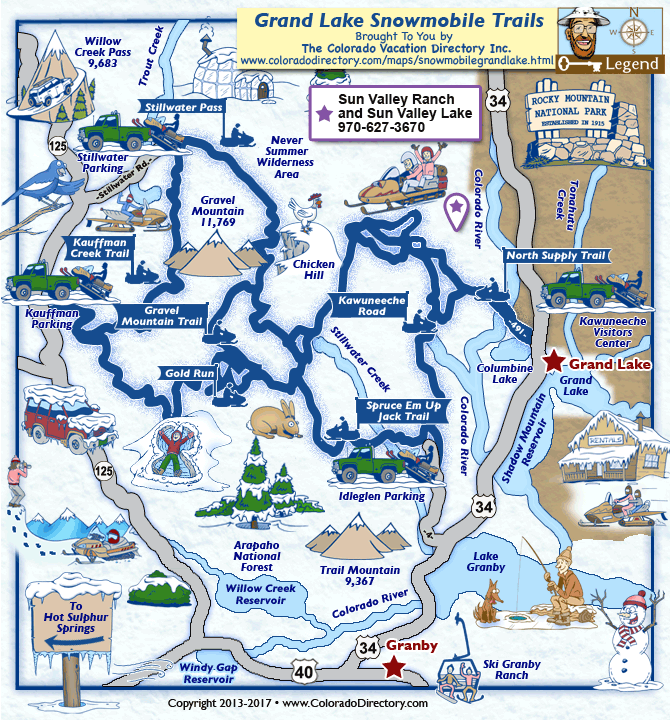 Not all towns appear on map. The publisher does not assume any responsibility for accuracy or completeness of maps. This information was compiled as accurately as possible.
The Grand Lake Area is transformed during the winter into a snowmobiler's paradise, commonly referred to as snowmobile capitol of Colorado. Many of the areas are more easily explored in the winter on a snowmobile. Grand Lake is one of the few towns that allows snowmobiles on town roads! The snowmobile trails in the Grand Lake area start at the western edge of Rocky Mountain National Park and winds through the Arapahoe National Forest. The trail ends at Milner Pass on Trail Ridge Road. The first snow can fall as early as September.
Whiskey Park is an excellent place for beginning snowmobilers. This open meadow is a great place to gain experience in controlling a snowmobile. Deep in backcountry, the Whiskey Park route connects with the Gravel Mountain route. This 11,768' mountain route leaves little to be desired for a great snowmobiling experience.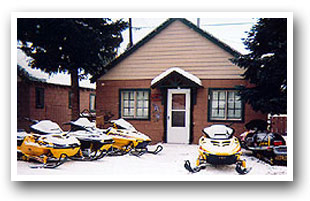 Be sure to also visit two of Colorado's 5 "great lakes," Lake Granby and Shadow Mountain Lake. Lake Granby is 7,250 surface acres with rainbow trout, Mackinaw trout and salmon making for excellent ice fishing in the winter. Shadow Mountain Lake has 1,346 surface acres with brown trout, rainbow trout and salmon for ice fishing.

Places to Stay & Fun Things to Do
Grand Adventures Outdoor Activity Center: Snowmobiling, ATVing, Rafting


Grand Lake, Fraser Valley, Winter Park, Idaho Springs Adventures: Snowmobiling, ATVing, Rafting. Outdoor Activity Center: guided tours and self guided rentals. OUR TOURS go to the Continental Divide!
On The Trail Rentals: ATVs, UTVs and Snowmobiles


RENT at the trailhead near Grand Lake and National Forest! Unguided and guided snowmobiling, 130 miles of groomed trails. Summer the trails are great ATVs and Side-By-Sides. Start your adventure here!
Sun Valley Ranch Bunkhouse - Year-Round Vacation Destination

Stay in a vacation cabin on the Lake; mid-week winter rates. Sun Valley Ranch Bunkhouse a year-round destination. Snowmobile, XC ski, snowshoe, hike from your front door. Modern kitchen and woodstove.
Winding River Resort Village: A Family Destination




160 acres near Grand Lake, a Resort Village bordering Rocky Mountain National Park along a winding river. A family reunion destination: Cabins, campsites, lodge room. Vacation with your horse! Free WiFi.
More Activities & Information
Grand Lake, Colorado includes: Granby, Ski Granby Ranch
Hot Sulphur Springs, Colorado includes: Parshall
---
Snowmobiling in Colorado