Colorado Snowmobiling
Buffalo & Rabbit Ears Pass Snowmobile Trails
The area around Buffalo Pass, Rabbit Ears Pass, and Muddy Pass in Medicine Bow - Routt National Forest is a haven for Snowmobilers with magnificent views. With over 200 miles of beautiful groomed trails, thousands of acres of play areas with champagne powder, and rugged peaks for climbing, you'll want to come back year after year. 300 inches of snow falls on this beautiful area a year.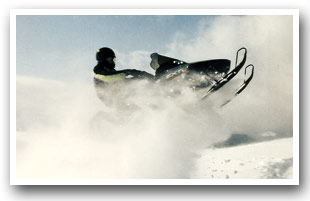 This area offers four main trailheads to load and unload your sleds: Muddy Creek Trailhead and Grizzly Creek Guard Station Trailhead on the east side of the Continental Divide; Seedhouse Trailhead and Steamboat Lake State Park on the west side.
If you want to ride on the east side of the Divide, we recommend you stay in Walden. These trails are for the more adventurous and more advanced. The trails are more forested while you ride high into the alpine.
Muddy Creek Trailhead - Located near the intersection of CR 14 and Highway 40. Most trails spur off of Rabbit Ears Pass. Latigo Loop is south of Hwy 40 on trail number 1A. You can travel north of Rabbit Ears Pass all the way to Buffalo Pass along 1A to the intersection of 1A-1D-1E. Turn left onto trail number 1D and ride all the way up Buffalo Pass.
Grizzly Creek Guard Station Trailhead - Located off CR 14 south of Walden. Take trail number 1F south down to Rabbit Ears Pass. Or take trail number 1H north up through Medicine Bow-Routt National Forest.
If you want to ride on the west side of the Divide, you should stay in Steamboat Springs, Clark, Hahn's Peak or Columbine. This area is more for the beginners and has more meadows to play in.
Steamboat Lake State Park - Located on the west side of Steamboat Lake. Trail number 42 is the main trail heading out of this area.
Seedhouse Trailhead - Located just east of Clark. Trails travel north of CR 400 on trail number 429 and connect with Columbine, Colorado.
Keep in mind, there are areas where you will need a backcountry permit to have access. Make sure you know the rules and regulations for riding a snowmobile.
More Activities & Information
Steamboat Springs, Colorado includes: Clark, Columbine, Hahn's Peak, Hayden
Walden (North Park), Colorado includes: Gould, North Park Area, Rand
---
Snowmobiling in Colorado