Colorado Snowmobiling
Buena Vista Area Snowmobile Trails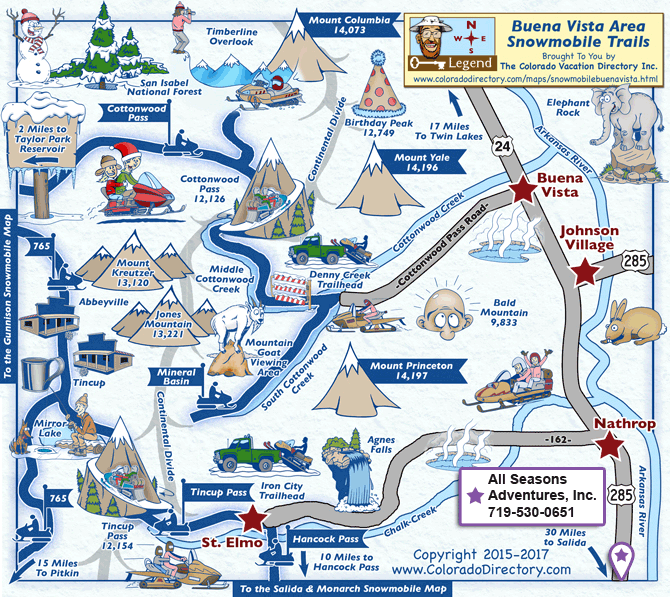 Not all towns appear on map. The publisher does not assume any responsibility for accuracy or completeness of maps. This information was compiled as accurately as possible.
Snowmobiling in Buena Vista
The Buena Vista area is beautiful year round! When winter is at its height and the Colorado mountains are in their snow-blanketed glory, snowmobiling is a great way to get out and experience their splendor. The Buena Vista area snowmobile trails consist of groomed trails located in the San Isabel Forest. They offer varying terrain that is suitable for all levels of expertise, with trails that range from easy to difficult. The trails travel near or cross over the Continental Divide, which is where the water flows to the west, toward the Pacific Ocean, on one side and to the east, toward the Atlantic Ocean, on the other. The Upper Arkansas River Valley is surrounded by several fourteeners, mountains which summit at over 14,000 feet high, just part of the gorgeous scenery in the area. The trails are accessible from the towns of Buena Vista, Johnson Village, Nathrop, and St. Elmo.
From Buena Vista, Colorado
Take Cottonwood Pass Road to the Denny Creek Trailhead.
Mineral Basin Road is a shorter trail and travels near the Continental Divide. It offers stunning views of the surrounding high country and the opportunity for mountain goat viewing.
Cottonwood Pass Road turns from drivable street to snowmobile trail at the Denny Creek Trailhead. It crosses the Continental Divide at about 12,000 feet, with an open bowl at the top, and gives riders an awe-inspiring view of the snow-capped mountains all around, including Mount Yale, Mount Princeton and Mount Columbia, several of the area's fourteeners. The trail continues on for several miles to Taylor Park Reservoir.
From Nathrop, Colorado
Take County Road 162 west to the historic and well-preserved ghost town of St. Elmo.
Hancock Pass Road starts at St. Elmo and heads south 10 miles to Hancock Pass.
Tincup Pass Road starts at the Iron City Trailhead in St. Elmo and crosses over the Continental Divide. It is a popular and well-marked trail. The views from the top of the pass are breathtaking, and continue to impress on the west side of the Divide down to Mirror Lake and Tincup, a ghost town relic from the late 1800's mining boom. Road 765 runs north/south and meets with Tincup Pass Road at Tincup. From there, snowmobile south to Pitkin, or north to Taylor Park Reservoir, with another ghost town, Abbeyville, on the way.
Snowmobiling in the Buena Vista area is a fun adventure for all riders. It is made even easier with snowmobile rentals in town and family-friendly guided tours. When you've had you're fill of snowmobiling, stop in town for a rejuvenating dip in the local hot springs. The Buena Vista area has several options for winter lodging and winter camping for longer stays. Enjoy all that Buena Vista, Nathrop, St. Elmo and Johnson Village have to offer.
Driving Directions
Buena Vista is in the South Central region of Colorado, about 2 hours west of Colorado Springs. From I-25, take exit 141, US-24 West, about 75 miles to Johnson Village and head north on US Highway 24, about 13 miles, to Buena Vista.

Places to Stay & Fun Things to Do
All Season Adventures Inc. - Snowmobile and ATV Rentals and Tours


Adventures All Year - Pick Your Season! RIDE the DIVIDE! Explore the Explore the Collegiate Peaks near Salida and Monarch. Snowmobile or ATV, guided tours or unguided rentals. Golden Autumn Color Tours.
More Activities & Information
Buena Vista Area, Colorado includes: Johnson Village, Nathrop, St. Elmo
Salida, Colorado includes: Howard, Monarch, Poncha Springs
---
Snowmobiling in Colorado