Colorado Snowmobiling
Winter Park Snowmobile Trails
Not all towns appear on map. The publisher does not assume any responsibility for accuracy or completeness of maps. This information was compiled as accurately as possible.
The area surrounding Winter Park has many miles of snowmobile trails, open meadows, and steep mountain areas. Only 65 miles West of Denver, the trails wind through the Arapaho National Forest. This area is perfect for beginner and intermediate riders and families who are looking for experience Colorado's backcountry. This area encompasses 13,000 acres in the Arapaho National Forest.
The snowmobile areas start at the Elk Creek Trailhead, Church Park Trailhead, and Experimental Forest Trailhead. The trails start just a few miles West of Highway 40; go by Ptarmigan Peak, part of the Ptarmigan Peak Wilderness Area.
East of Highway 40 is the Meadow Creek Reservoir Trail. The reservoir is part of Arapaho National Recreation Area (ANRA) and covers 50 acres; it is the most remote part of the ANRA at nearly 10,000 feet elevation. Ride up to the Continental Divide and see gorgeous views of Winter Park and the Fraser Valley.

Places to Stay & Fun Things to Do
Grand Adventures Outdoor Activity Center: Snowmobiling and ATVing


Grand Lake, Fraser Valley, Winter Park -- Snowmobiling and ATVing Adventures the ONLY Tours to the Continental Divide in Grand County, Colorado. Outdoor Activity Center: guided tours or unguided rentals.
More Activities & Information
Grand Lake, Colorado includes: Granby, Ski Granby Ranch
Hot Sulphur Springs, Colorado includes: Parshall
Winter Park, Colorado includes: Fraser, Tabernash
---
---
Snowmobiling in Colorado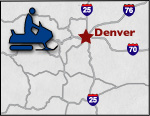 ---