Colorado Snowmobiling
Ridgway Snowmobile Trails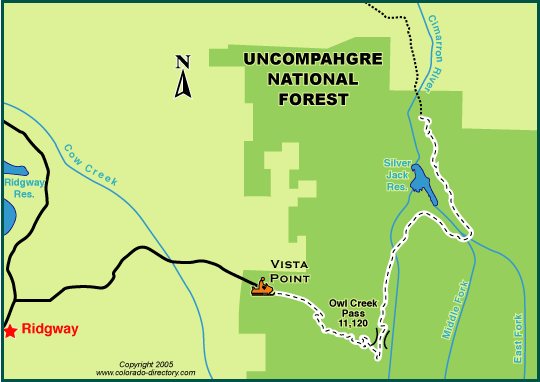 Snowmobilers near Ridgway can discover just why the San Juans are the most photographed mountains in the world.
The Owl Creek Pass trail takes riders up 10,114 feet into the peaks to enjoy the breathtaking views and scenery the mountains offer. Numerous ungroomed side trails can take adventurous riders into the Cimarron Forks area, where plenty of high country meadows are waiting to be played in.
To access the trail, turn east off Highway 550 onto County Road 10 (Owl Creek Pass Road) and travel 9 miles to the Vista Point overlook and parking area. Two trails leave the trailhead but eventually rejoin further up the pass.
Use caution and heed all warnings, though - this area is avalanche terrain.
More Activities & Information
Ouray, Colorado includes: Ridgway
---
Snowmobiling in Colorado