Colorado Snowmobiling
Basalt Snowmobile Trails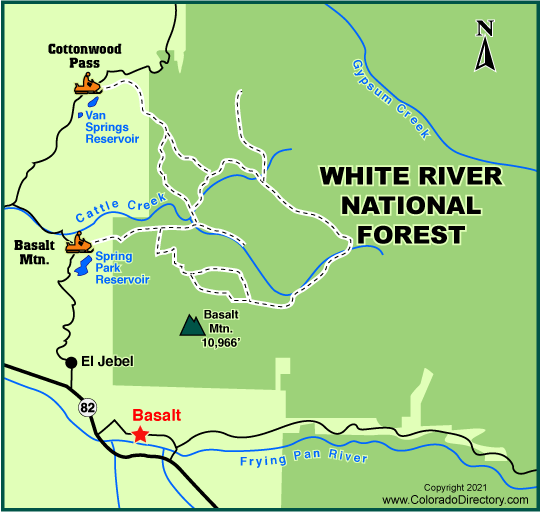 Not all towns appear on map. The publisher does not assume any responsibility for accuracy or completeness of maps. This information was compiled as accurately as possible.
Snowmobiling in Basalt
Little more than a railroad stop when it was founded 1897, Basalt is now a thriving center for tourism and recreation, including some of the best snowmobile trails in the state.
The Basalt Mountain and Cottonwood Pass trails are nestled just 5 miles north of Basalt in the 2.3 million-acre White River National Forest. Ungroomed, the trails are packed by the snowmobiles of members of the Mid-Valley Snowmobile Club of Basalt. There's plenty of trail riding if you stick to the Forest Service roads, or more experienced riders can risk extreme riding in the trail's mountain areas. Just remember to use the bathroom before you head out as neither trail head has a restroom.
To get to the Basalt Mountain Trailhead, drive north of Basalt to El Jebel. Once there, take Upper Cattle Creek Road five miles north of El Jebel to reach the parking area. If you want to reach the Cottonwood Pass Trailhead, continue on Upper Cattle Creek Road for another seven miles and turn off on Cottonwood Pass Road. Take the road five miles north until you reach the trailhead, which is near Van Springs Reservoir.
More Activities & Information
Aspen & Snowmass Village, Colorado includes: Basalt, Snowmass Village
---
Snowmobiling in Colorado