Aspen & Snowmass Village - Northwest Colorado
Includes Basalt, Snowmass Village
Experience Aspen, Basalt, and Snowmass Village, Colorado
Aspen is a renowned ski resort, a historic mining town, a relaxing mountain retreat and a cultural hot spot with its art galleries and glittering stars who vacation here. The town began as a remote mining camp in 1879 and became one of the richest silver producing areas in the world until the silver market crashed in 1893.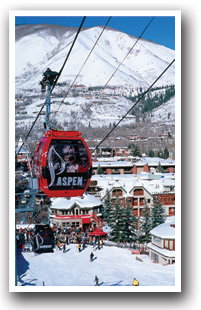 Basalt is a quaint mountain community at the confluence of two Gold medal trout streams: The Fryingpan River and The Roaring Fork River. It was named for the basaltic rock on Basalt Mountain, and began as railroad town. This vibrant and diverse town offers outdoor recreation, a variety of restaurants and unique shops. Cyclist and hikers alike will fall in love with the miles of trails and roads. Whether it's a picnic outing on the Rio Grand bike trail. In Fall Basalt is an ideal base for your hunting adventures.
In the Roaring Fork Valley, Aspen offers a winter wonderland for all outdoor enthusiasts and in summer hosts a music festival, theater, ballets and other entertaining events. Fishing spots, hiking and mountain biking trails abound on public forest lands near this mountain town. The Maroon Bells is said to be one of the most photographed peaks in North America and is a must-see.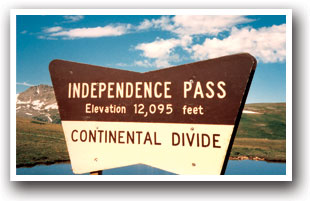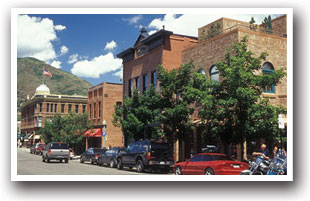 On the Roaring Forks River Healthy Rivers Whitewater Park is just upstream from downtown Basalt, kayakers or stand-up paddleboarders will spend hours in the two splashy, fun play waves.
Down the road in the Crystal River Valley is towering Mount Sopris. Its peak reaches 12,953', and dominates the vista of the charming town of Carbondale. Formerly the only stagecoach stop on the 40-mile run to Aspen, Carbondale takes pride in its specialty shops, local arts and crafts and fine restaurants. Pick from one of many nearby mountain bike trails, fish the Roaring Fork River for its large trout or enjoy the scenery on the Crystal River.
Aspen boasts four ski resorts in the area, including Aspen Highlands Ski Resort, Aspen Mountain Ski Resort, Buttermilk Ski Resort, and Snowmass Ski Resort.
Aspen, Basalt, and Snowmass Village, Colorado Driving Directions and Location
In Northwest Colorado. From the Junction of I-70 and Colorado Highway 82 in Glenwood Springs, Basalt is 23 miles southeast, continuing on Colorado Highway 82 you will turn west onto Bush Creek Road to Snowmass Village which is an additional 17 miles from Basalt. Aspen, Colorado is an hours drive from the Junction of I-70 and Colorado Highway 82. If you continue on CO-HWY 82, Top of the Rockies Scenic Byway, you will be treated to the views at the top of independence Pass and the Continental divide before reaching Twin Lakes.
Commercial air travel accommodations are handled by Aspen/Pitkin County Airport. Please contact your preferred travel agent or airline for flight arrangements.
Aspen & Snowmass Village is near: Crystal River Valley, Glenwood Springs, Grand Mesa Area & Ruedi Reservoir

Featured Aspen & Snowmass Village Businesses
Avalanche Outfitters at Redstone Stables
Redstone CO, Ruby of the Rockies! Avalanche Outfitters is a western horseback riding destination: back country trail rides, overnight pack trips, winter sleigh rides. New 2022 horse-drawn carriage dinner rides.








---
Avalanche Ranch: Cabins and Hot Springs Along the Crystal River
Near Redstone, between Aspen and Glenwood, along the Crystal River. 3 hot springs pools! Avalanche Vacation Home. Log Ranch Cabins. Shepherd Wagons. Pet welcome! Winter Skiing! Stocked trout pond.





---
Timberline Condominiums Ski-In/Ski-Out Vacation Rentals
Voted #1 Family Destination by readers of Ski Magazine. The fun never ends for families at Timberline Snowmass: Ski-In/Ski-out condominiums, concierge, jacuzzi pool, kitchens, WI-FI. Aspen Airport shuttle.





---
For more travel information contact:
Aspen & Snowmass Village Activities & Maps
Scenic Byways:
Top of the Rockies Scenic Byway

Ski Areas & Resorts:
Aspen Highlands Ski Resort
Aspen Mountain Ski Resort
Buttermilk Ski Resort
Snowmass Ski Resort

Snowmobiling:
Basalt Snowmobile Trails

Local Area Maps:
Aspen & Crystal River Valley Area Map

---