Ruedi Reservoir Area - Northwest Colorado
Includes Meredith
Just 12 miles north of Aspen and 14 miles east of Basalt, as well as being close to White National Forest, Ruedi is a relaxing place to spend a day on the water, or camp for a week. Located in the Frying Pan River Valley off State Highway 82, Ruedi Reservoir boasts 997 acres of water for recreation. At the reservoir, one can boat, fish, or swim at this easily accessible reservoir.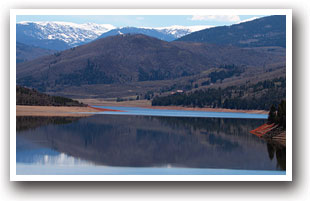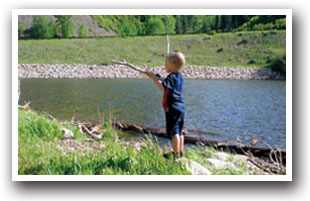 Extreme cold temperatures keep the reservoir closed during the winter months. Be prepared for mother nature while visiting this spot. Temperatures can vary 40 degrees in the course of one day. The arid, desert-like climate is hot during the day, but cool during the evening. Flowing into the reservoir is the Frying Pan River, an excellent place for catch and release fishing. Well known to Fly Fisherman, you can attempt to capture rainbow trout, some as large as 10 pounds, on the Frying Pan River. Serious bikers will want to take the Rocky Fork Trail to Smuggler Valley Loop, which runs all the way to Aspen, Colorado. Located just a mile north east of Ruedi Reservoir is the small town of Meredith. With a population under 100, Meredith will get you away from the stress of a big city, and you can relax without noise pollution.
Ruedi Reservoir Area is near: Aspen & Snowmass Village & Glenwood Springs
Featured Ruedi Reservoir Area Businesses
Yolande Placer Cabins
A wilderness retreat on the Fryingpan River. Yolande Placer mountain cabins are modernized; 2 miles past Ruedi Reservoir. 1 hour to Glenwood Hot Springs Pool. Unit 444 -- Best Deer and Elk Hunting!




---
Ruedi Reservoir Area Activities & Maps
Local Area Maps:
Aspen & Crystal River Valley Area Map

---