Crystal River Valley - Northwest Colorado
Includes Carbondale, Marble, Redstone
Experience The Crystal River Valley: Carbondale, Marble, Redstone - Northwest Colorado
Thirty miles from Aspen and twelve miles from Glenwood Springs, THE CRYSTAL RIVER VALLEY is surrounded by the White River National Forest and offers unique charm and secluded vacation destinations with the untouched beauty of Colorado's twin-summit Mount Sopris. The West Elk Loop Scenic Byway starts in Carbondale, the gateway to Highway 133 just off Highway 82, and takes you up and over Mount McClure, summit at 8,763 feet. There are plenty of trailheads along the way: Avalanche Creek Trail, Thomas Lake Trail and Drift Creek Trail. Whether you hike, mountain bike, horseback ride, snowshoe or cross-country ski there is a trail waiting for you.
National Geographic Adventure Magazine offered this insight about Carbondale and the Crystal River Valley: "There is plenty to do including biking, kayaking, and world-class fly-fishing and winter offers excellent cross-country skiing at Spring Gulch."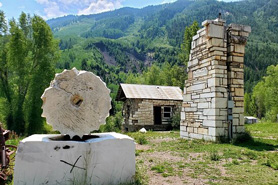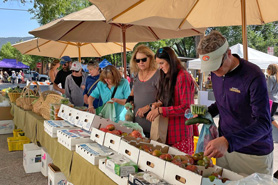 If you have visited our Nation's Capital Washington DC, you might have visited the Lincoln Memorial Monument and the Tomb of the Unknown Soldier; both of these are monuments of American Pride and History and feature white marble from Colorado! The marble was mined here then slowly transported to Washington, DC. The mine was closed during WWII as a non-essential industry, and the train tracks and large equipment was carted away and melted down to support the U.S. war effort. The historic Marble Quarry Trail was washed out in spring 2022 and closed.
The Yule Marble Fabrication Factory in Delta, Colorado uses Colorado Marble to produce tiles, slabs and blocks and is the largest marble finishing factory in the United States of America. You can also see and purchase sculptures in Marble, Colorado by local artisans.
The MARBLE/marble Stone Carving Symposium is the sculpting school in Marble. Whether you are a novice or experienced sculpture the 8 days you spend learning marble carving at the source will bring hours of family fun; it takes place in July and early August annually.
Most folks just drive past REDSTONE NATIONAL HISTORIC DISTRICT; however, if you love alpine villages, fine dining, art galleries, hand-crafted crafts and antiques this is a must stop along the Byway! What will keep you here is the Maroon Bells Wilderness Area with hiking trails that start in town; the wildflowers, solitude, and expansive views in every direction and the sunset photos with capture your heart.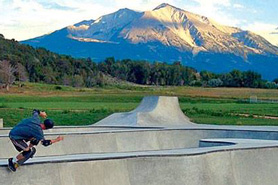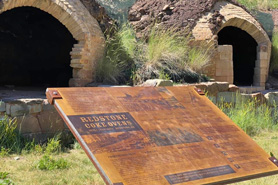 CARBONDALE is the halfway point between Glenwood Springs and Aspen Colorado where the Crystal River merges with the Roaring Fork River. PRO TIP: Take an afternoon to walk the self guided historic tour of downtown. Start and finish at Town Hall at the Corner of Colorado Avenue and 4th Street; the entire loop is just over a help mile. My favorite stops along the way the Dinkel Block with a bank safe that survived a fire in 1891, Fatbelly Burgers, Bonfire Coffee, Carbondale Arts' sponsors the Carbondale Mountain Fair in late July Annually.
There are several great Off-Roading Trails in the area with access off Country Roads 344, 117 and C106 with endless backcountry to explore in ever direction. For a retreat even further off the beaten path, try the Redstone-Marble area with its mining past, ghost towns and dramatic mountain scenery. Redstone was founded by John Cleveland Osgood at the turn of the century as a model community to house employees of his coal mines. Although the workers and their families lived in simple cabins, Osgood built the luxurious Cleveholm Castle for himself, furnished with Tiffany chandeliers and Italian paintings. Marble was best known for its quarries, which produced a pure marble that rivaled Italy's Carrera marble. If snowmobiling is your jam, stay in Carbondale where the trails start just a few miles from town.
There are 6 ski resorts in the area however the two closest are Snowmass Ski Area and Buttermilk Ski Resort.
COMMERCIAL AIR TRAVEL: Accommodations are handled by Aspen/Pitkin County Airport. Please contact your preferred travel agent or airline for flight arrangements. Carbondale is 25 miles northwest on CO Highway 82 and Marble is an additional 28 miles south on CO Highway 133 from the Aspen/Pitkin County Airport.
Carbondale, Redstone and Marble, Colorado Location and Driving Directions
LOCATION: The Crystal River Valley is in Northwestern Colorado is 130-155 miles (depending on town) east of the Colorado-Utah Border off I-70 along the West Elk Loop Scenic Byway. The three main towns of the Valley, Carbondale, Redstone, Marble) are 28 miles apart from north to south. All driving times are based on arriving in Marble. From Grand Junction the Drive should take about 2.25 hours; from Denver 4 hours. from Durango 4.5 hours, and from Colorado Springs or Fort Collins 5 hours.
DRIVING DIRECTIONS: From Grand Junction take I-70 to exit 227 in Glenwood Springs merge onto CO Highway 82 to Carbondale; or, from Denver head west 170-195 miles on I-70 in Glenwood Springs take exit 227 onto CO Highway 82 to Carbondale. Carbondale is at the junction of Colorado highways 82 and 133; head south on Highway 133 17 miles to Redstone; continue another 11 miles turn left onto County Road 3 the 6 miles drive will take about 12 minutes.
Crystal River Valley is near: Aspen & Snowmass Village, Glenwood Springs & Grand Mesa Area

Featured Crystal River Valley Businesses
Avalanche Outfitters at Redstone Stables
Redstone CO, Ruby of the Rockies! Avalanche Outfitters is a western horseback riding destination: back country trail rides, overnight pack trips, winter sleigh rides. New 2022 horse-drawn carriage dinner rides.








---
Avalanche Ranch: Cabins and Hot Springs Along the Crystal River
Near Redstone, between Aspen and Glenwood, along the Crystal River. 3 hot springs pools! Avalanche Vacation Home. Log Ranch Cabins. Shepherd Wagons. Pet welcome! Winter Skiing! Stocked trout pond.





---
Beaver Lake Lodge and Cabins
On Beaver Lake - use our canoes. Historic Lodge and Cabins surrounded by mountain peaks in Marble. WALK TO: trails, river beach, jeep tours, horseback rides, rentals ATV, snowmobile. Evening campfires.



---
Crystal River Jeep Tours
Experienced guides take you into the Upper Crystal River Valley and White River National Forest. FAMILY FUN, where pavement ends! Sightseeing tours in classic Jeeps: historic Crystal Mill, Lead King Basin.


---
Gateway RV Park - Carbondale Recreation
A perfect recreation gateway along the Roaring Fork River in Carbondale. RV sites, group tent camping site, FREE WiFi, hot showers, fire rings, picnic table. DOG FRIENDLY! Boat ramp for float fishermen.




---
Marble Crystal River Chamber
Along the West Elk Loop Scenic Byway, Marble CO is the gateway to Beaver Lake State Wildlife Area. On the Western slope of the Rocky Mountain between Carbondale and Paonia State Park off Highway 133.


---
For more travel information contact:
Marble Crystal River Chamber
Crystal River Valley Activities & Maps
Scenic Byways:
West Elk Loop Scenic Byway

Rafting & Kayaking:
Roaring Fork River Rafting & Kayaking

Ski Areas & Resorts:
Aspen Highlands Ski Resort
Aspen Mountain Ski Resort
Buttermilk Ski Resort
Snowmass Ski Resort
Sunlight Mountain Ski Resort

Snowmobiling:
Carbondale Snowmobile Trails

Local Area Maps:
Aspen & Crystal River Valley Area Map

---