Colorado Scenic Byways Map
Trail Ridge Road Scenic Byway
Trail Ridge Road Scenic Byway
Every year, it takes an average of 42 days to plow Trail Ridge Road, at a cost of more than $30,000, but most people would agree the effort is well worth it.
The 48-mile stretch of road has been one of Colorado's most popular routes since it opened in 1938, and it's easy to see why. Traveling the scenic byway, visitors get a taste of the variety that makes up the Rocky Mountains. Travelers go from mild, warm temperatures to cold, frigid ones in a matter of minutes. Wildlife changes from elk and deer to marmots and bighorn sheep as the road climbs higher. And green forests give way to rocky tundra with each passing mile.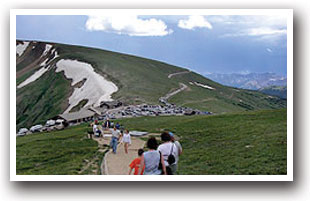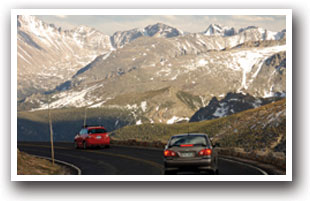 The road, with 11 miles over 11,000 feet in elevation, holds the honor of America's highest continuous highway. It reaches its peak at 12,183 feet, well above the 11,500 foot timberline, where trees end. From Trail Ridge's breathtaking heights, visitors can sometimes see as far as Wyoming.
The road, which takes about three hours to complete, offers plenty to do along the way, too. At Milner Pass, it crosses the Continental Divide, where stream flows are separated east from west. And visitors can take the half hour Tundra World Nature Trail from the Rock Cut parking area to get a closer look at the plant life. At night, sky gazing is a popular past time on Trail Ridge Road, as there are no city lights to compete with the stars.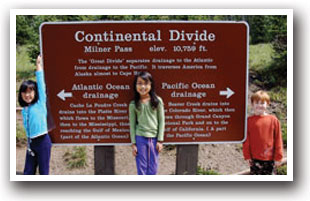 Trail Ridge Road is only open from about Memorial Day to mid-October, though, so visitors should plan accordingly.
Places to Stay & Fun Things to Do
Columbine Cabins - Pet Friendly


Columbine is pet friendly! Cozy mountain cabins with kitchens and Queen beds. Year round FUN at the west-end of Grand Lake. Walk to Western Boardwalk or Lake. Family picnics. BBQ grills. Outdoor hot tub.
Lupine Village at Grand Lake


Cabins: living area, bedroom, bathroom, kitchen. In the heart of Grand Lake at the western gateway to RMNP. Lupine Village is blocks from the shore, steps from the boardwalk, snowshoe out your door.
Misty Mountain Lodge - Vacation Cabin Retreat



Estes Park is RIGHT HERE --A Family Vacation. Our Lodge Guests say: It's so beautiful here -- a cabin retreat surrounded by trees, the river, spectacular misty mountain backdrop, it feels like you're in nature.
Pinebrook Vacation Rentals:
Mountain Vacation Destinations


Vacation at the doorstep of Rocky Mountain National Park, Pinebrook fits your budget from cozy rustic cabins hidden in the pines to exquisite mountain homes full of amenities. Some rentals are pet friendly!
Winding River Resort Village: A Family Destination




160 acres near Grand Lake, the Resort Village borders Rocky Mountain National Park along a winding river. A family reunion destination: Cabins, campsites, lodge room. Vacation with your horse! Free WiFi.
More Activities & Information
Estes Park, Colorado includes: Drake
Grand Lake, Colorado includes: Granby, Ski Granby Ranch
---
Scenic Byways in Colorado