Colorado Scenic Byways Map
Pikes Peak Highway Scenic Drive
Pikes Peak Tollroad starts at Cascade and winds 12.42 miles to the summit of Pikes Peak. Expect to spend approximately two hours round trip to the top and back.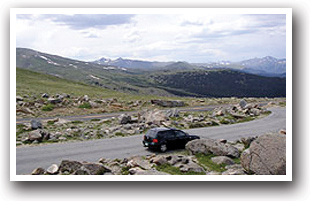 There is a toll to drive the highway ranging from $5 to $50 May-November and $5 to $35 December-April. Those who have National Park passes will still have to pay the toll, as it is not a designated National Park. The highway may be closed during winter for bad weather.
If the family is getting restless, a good stop along the way is at Halfway Picnic Grounds. There are other picnic areas along the byway to stop at so if you want to stop earlier or later, you can.
Activities to do along the way include fishing in Crystal Creek Reservoir and hiking at various trails. While you cannot hike along the highway, you can hike up to Pikes Peak along Barr Trail. Take the necessary precautions with this method; visit our Colorado Fun Facts page for Helpful Hints on altitude awareness.
No matter how you journey this spectacle of the Rocky Mountain region, Pikes Peak will energize and refresh your spirit. This truly is, as Katherine Lee Bates described, "America the Beautiful."
Location: From I-25, turn west onto US 24. The Tollroad starts just outside of Cascade.

Places to Stay & Fun Things to Do
Colorado Springs - Olympic City USA


Colorado Springs is Olympic City USA! Pikes Peak inspired the song America the Beautiful. Visitors find plenty to explore and experience: affordable lodging, mountains, outdoor adventures, and 55 attractions!
Green Mountain Falls Vacation Rentals

HOT TUBS ON-SITE. Family vacation at Lakeside Cottages! Walk to lake fishing, winter ice staking in our small, friendly mountain town. West of Colorado Springs near Pikes Peak attractions and Cripple Creek.
Lone Duck Campground, Cabins and Fishing Pond


Denver Post: Top 10 Campground. Lone Duck is hidden in a restful valley near Pikes Peak, by a stream, away from city lights. Mountain views from every cabin and campsite. Fishing pond. Heated pool. WiFi.
Pikes Peak Mountain Bike Tours -- An Unforgettable Journey


We cater to all skill levels. Breathtaking views of Pikes Peak by mountain bike! Our Tours are fun, safe, adventures for all who LOVE the great outdoors. Necessary equipment and transportation are provided.
Rockhound ATV Tours Guided


A Family adventure! A rugged ATV ride into Pike National Forest, our guided tours give you an exclusive look into the local history of Pikes Peak along our backcountry trails. Rockhound also offers ATV rentals.
More Activities & Information
Pikes Peak Area, Colorado includes: Cascade, Chipita Park, Deckers, Green Mountain Falls, Manitou Springs, Woodland Park
---
Scenic Byways in Colorado