Colorado Scenic Byways Map
Unaweep Tabeguache Scenic Byway
The Unaweep Tabeguache Scenic Byway running just outside the Uncompahgre National Forest is along the western edge of Colorado, almost to the Utah border. Stretching for about 130 miles, it will take you almost 3 hours to drive it all. This area is filled with history: geological formations, Native American buildings, petroglyphs, hieroglyphics.
All that remains of the Driggs Mansion is worn down sandstone walls. Built in the early 1900s, Lawrence LaThourette Driggs purchased the land with the hope of developing and cultivating desert land. This was a tough feat because water rights limited their ability to irrigate the land. The structure isn't on the State or National Historical Site Registries but it does qualify.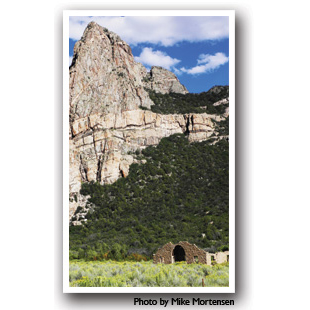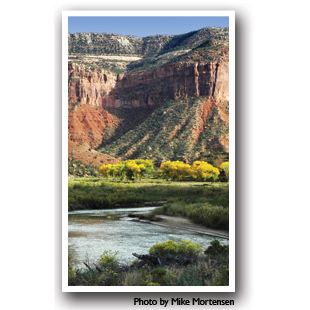 The Hanging Flume near Uravan was built for carrying water to the gold mines along the Dolores River. It was only used for a few years after miners realized the gold was unrecoverable from the deposits. You can still see remains of the flume along the walls but much of it has vanished.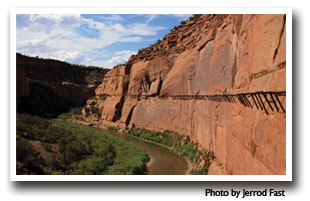 Along the byway there are many sightseeing opportunities and fun things to do. Whitewater Rafting is popular along the Gunnison River just outside of Whitewater and Delta. Various hiking and picnicking areas along the byway allow vacationers the opportunity to see the beautiful scenery: panoramic views, forests, wildlife, sandstone layers.
Location: From I-70 in Grand Junction, take Highway 50 South. Turn onto Hwy 141 just outside of Whitewater; this is where the Byway starts. Follow Highway 141 through Gateway, Uravan, Vancorum, and Naturita. The byway continues on Hwy 145 through Norwood and ends in Placerville.

Places to Stay & Fun Things to Do
High Country RV Park


High Country is along the Unaweep Tabeguache Scenic Byway, visit Naturita and Unaweep Canyons - an uncrowded Grand Canyon! RV Park near groceries, gas, restaurants, San Miguel River boat launch.
Town of Naturita - A Vacation Destination to Trails and Adventure


Big Things Happen in -- Little Nature -- Buckeye Recreation Reservoir, San Miguel River, Unaweep Tabeguache Scenic Byway, wildlife and bird watching, ancient petroglyphs, hike, fish, ATV, dirt bike, hunt.
Town of Nucla - A Vacation Destination to Trails and Adventure


Nucla is along Unaweep Tabeguache Scenic Byway, Hwy 141, in SW CO. PLAY: Uncompahgre Plateau, San Juan Mountains: Off-Road Trails - ATV, bike, hike; fish San Miguel River, prehistoric caves and art.
Unaweep/Tabeguache Interpretive Visitor Center


Adventure Waits . . . at The West End of Montrose County . . . Naturita, Nucla, COLORADO! Mountain Bike Trails, Hunting, ATVing, Jeeping, Historic Tours, Camping, Hiking, Hotel Rooms, Fishing, Canoeing.
Vestal House @ Tabegauche Park - Bed and Breakfast and RV Park


Grand Opening July 1, 2020! The Tooker Family built the Vestal House @ Tabegauche Park a Bed and Breakfast and RV Park from the ground up! In Nucla; explore the Unaweep Tabeguache Scenic Byway.
More Activities & Information
Naturita & Nucla Area, Colorado includes: Nucla
Grand Junction, Colorado includes: Clifton, De Beque, Fruita, Gateway, Palisade
Telluride, Colorado includes: Rico
---
Scenic Byways in Colorado