Colorado Scenic Byways Map
Dinosaur Diamond Scenic Byway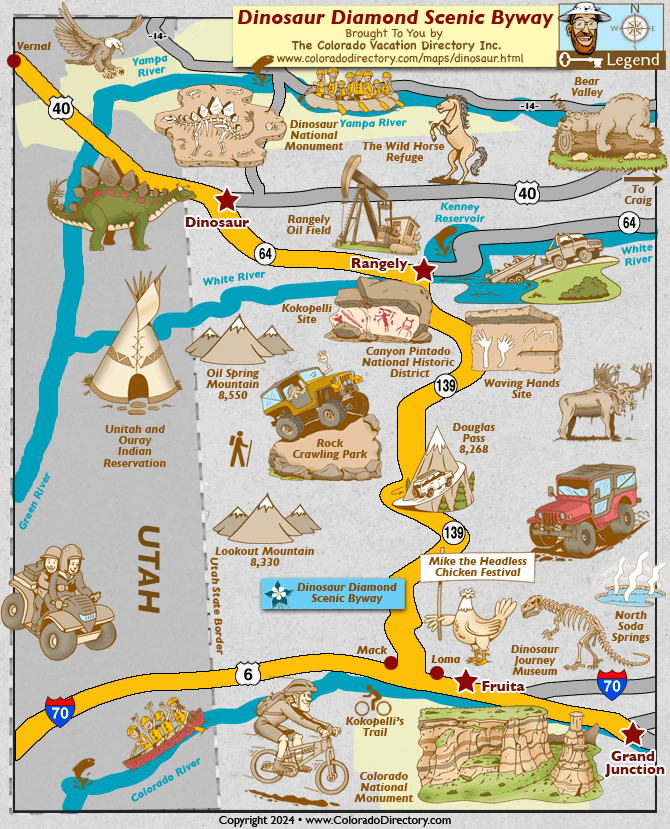 Dinosaur Diamond Scenic Byway
Before humans walked the Earth, dinosaurs ruled the land. When these monsters became extinct, ancient Indians lived and worked the land. Both the dinosaurs and ancient Indians left us remnants of the way the world was, and now we can observe these along the Dinosaur Diamond Prehistoric Byway. This 512 mile byway starts in Grand Junction, and travels through Fruita, Rangely, and Dinosaur before circling through Utah and back to Grand Junction. Be sure to allow 10 hours, and up to 10 days to see all this byway has to offer.
Dinosaurs were the ancient rulers of the land. Today, we can see their remains in the ground and in museums. The Dinosaur Diamond Prehistoric byway provides both of these sights. By visiting excavation sites in Fruita and Dinosaur Hill, at Dinosaur National Monument, you can see the exciting process of bones being discovered. Travel then to the Museum of Western Colorado in Fruita to see the process of an ancient bone being prepared by a paleontologist for a museum.
The Colorado National Monument in Grand Junction shows life of the ancient Fremont Indians. Here, you can view some of the finest and densest concentrations of rock art from 1000 years ago. Petroglyphs, pictures "pecked" into the rock, and pictographs, pictures painted into the rocks are both visible here. In addition to these, Canyon Pintado, between Douglas Pass and Rangely, has significant examples of rock art where the Bureau of Land Management has developed roadside interpretive displays.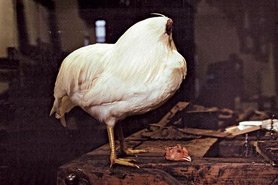 The Canyon Pintado National Historic District is a National Registered Historic Place in the Douglas Valley south of Rangely. Canyon Pintado (Painted Canyon) was occupied by prehistoric people for 11,000 years. One culture left a visible mark on the Canyon. The largest concentration of Fremont archaeological sites are along the Dinosaur Diamond Scenic Byway. More than 50 archaeological sites are located in the Canyon Pintado District, with 7 marked sites along Highway 139 south of Rangely. The sites feature petroglyphs and pictographs on the sheer sandstone walls.
If you are visiting Fruita, don't miss the statue of Mike, the Headless Chicken. According to legend, this chicken's purpose was for a special dinner to impress a mother-in-law. Instead, the chicken survived 18 months with no head, being fed grain and water through an eyedropper. During the third weekend in May, celebration abounds in Fruita to honor Mike.
Be sure to take part in activities such as biking and hiking along the way. You can even rent a horse or llama along the byway for companionship or labor as you hike along the byway. Also, Grand Junction provides rafting, fishing and canoeing in the nearby Colorado River.
More Activities & Information
Dinosaur Area, Colorado includes: Rangely
Grand Junction, Colorado includes: Clifton, De Beque, Fruita, Gateway, Palisade
---
Scenic Byways in Colorado