Colorado National Parks
Colorado National Monument
The Colorado National Monument of Grand Junction covers 20,454 acres, displaying stunning eroded red rock formations and canyons. Established on May 24th, 1911, the park averages about 300,000 visitors every year. The Colorado National Monument is also home to an array of wildlife including bighorn sheep, golden eagles, mule deer and mountain lions. The beautiful canyons start at an elevation of 4,700 feet and the magnificent formations reach up to 7,200 feet.
Open 24 hours a day, you are free to explore the beauty of the park at your leisure. The park is located just 6 miles east of Fruita and 6 miles west of Grand Junction. Each town has a selection of lodging available. With this convenience of location, the park can either be part of a vacation to the Western region of Colorado or a trip in itself.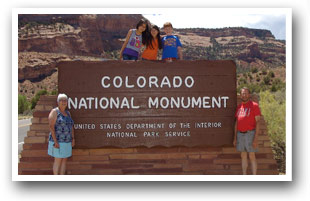 The visitor center is open in the summer from 8:00 AM - 7:00 PM and in the winter from 9:00 AM - 5:00 PM. The center offers a 12-minute audio-visual presentation about the park. Also provided by the visitor center are various exhibits. Both of these services will give you a history and background about the gorgeous rock formations within the park. The bookstore in the visitor center also provides information regarding the park and its history.
At the Colorado National Monument, summer months offer evening campfire programs on Saturdays and Sundays. Various ranger tours are also offered during the summer months. Other activities include picnicking at the Devil's Kitchen picnic area and visiting the three overlooks to maximize your experience of the park. Both are wheelchair accessible. Easter also brings the monument's annual sunrise service.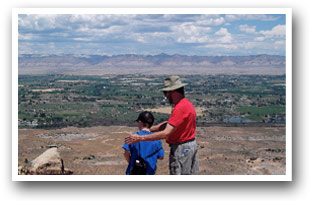 Be sure to explore the historic Rim Rock Drive. Beginning 4 miles south of Grand Junction, this 23-mile drive takes you through the park's gates from the river valley of the Colorado River, passing by the visitor center and campsite, and then winding to the top of the Uncompahgre Plateau. Along the way, plaques explain the development of the amazing geological features. The road also gives access to one nature trail and thirteen backcountry trails. Also be sure to travel the 63 mile Grand Mesa Byway.
Downloads:
View an area map of the Colorado National Monument
(Map provided by the U.S. National Park Service)
Directions:
Westbound: Highway I-70 to Grand Junction, exit at Horizon Drive, Exit 31 to East Entrance.
Eastbound: Highway I-70 to Fruita, Exit 19 to West Entrance.
Places to Stay & Fun Things to Do
Grand Junction KOA Holiday -- Western Colorado

On Hwy 50, next to Fairgrounds near Colorado National Monument in Grand Junction. KOA WiFi at all sites! Level, shaded sites: BIG Rigs, travel trailers, tents. Outdoor Pool! Clubs welcome. Cabins rentals.
More Activities & Information
Grand Junction, Colorado includes: Clifton, De Beque, Fruita, Gateway, Palisade
Grand Mesa Area, Colorado includes: Austin, Cedaredge, Collbran, Eckert, Mesa
---
National Parks and Monuments in Colorado