New Mexico National Parks
Chaco Culture National Historical Park
Thousands of years before settlers would journey into New Mexico, the Four Corners area of the state was already home to several thriving cities the largest among them being Chaco Canyon.
The urban center for the ancestral Pueblo culture from 850 to 1250, Chaco Canyon was known for its monumental buildings, innovative engineering projects and achievements in astronomy and the arts. The city was the center of commerce, the administrative hub and a popular ceremonial site for the entire region.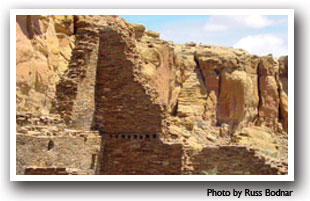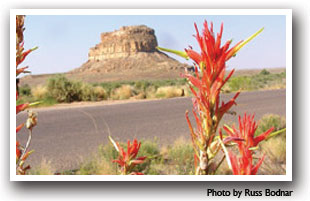 The city grew rapidly for nearly 400 years until, for reasons that are still unclear, the Puebloans left Chaco Canyon and spread to other areas of the state. The people later split into what are now the Hopi, Navajo and Pueblos of New Mexico, and Chaco Canyon though still a popular spiritual site for Native Americans fell into disrepair.
In the 1890s, curious archaeologists began excavating Chaco Canyon and discovered the city's sophisticated irrigation systems, dams and prehistoric roads. Large buildings and kivas were uncovered, and eventually the site was declared a national historical park.
Today, visitors can tour the once-great center of Chacoan culture and thanks to a partnership with the University of New Mexico view ancient artifacts found at the site. A handful of hiking and bike trails also run through the park, allowing vacationers to fully take in the landscape of mountains and mesas that held deep spiritual meaning for the Puebloan people.
Chaco Culture National Historical Park is open year-round, from sunrise to sunset. The visitors center is open from 8 a.m. to 5 p.m. everyday except Thanksgiving, Christmas and New Years days.
Downloads:
Download a map of Chaco Canyon
(Map provided by the U.S. National Park Service)
Directions:
From the North: Chaco Culture National Historical Park is located 21 miles south from US Highway (US) 550, on County Road (CR) 7900. The road is paved 13 miles to CR 7950 and then turns to dirt for the Remaining 8 miles.
From the South: Travel north on New Mexico Highway (NM) 57 from NM 9 at the former Seven Lakes Trading Post. Chaco Culture National Historical Park is located 20 miles north. Note, this road is dirt.
For more details on other routes to the park please visit National Park Service.
More Activities & Information
---
National Parks and Monuments in Colorado