Colorado National Parks
Hovenweep National Monument
People inhabited the area of Hovenweep National Monument as long as 10,000 years ago. The people would live in this area for short periods of time while following the seasonal weather patterns. In the year 900 AD people began to settle at Hovenweep year round. 5 prehistoric, Puebloan-era villages were erected with most of the structures being built from 1200 - 1300 AD. During the end of the 13th century, drought drove away the people of these villages. The Pueblo, Zuni, and Hopi tribes are their descendants. After several explorations to the area, President Harding proclaimed Hovenweep a National Monument in 1923. Now, Hovenweep is an archaeological center known for its undeveloped natural character. The park covers 785 acres, bringing 30,000 visitors a year. Located near Cortez and Mancos Colorado, at the border of Colorado and Utah, the park is open year round.
The Square Tower Group trail is a two-mile loop that takes about 1.5 hours to hike. This area is the largest collection of ancestral Puebloan structures at Hovenweep. The Square Tower, for which the area was named, is a three-story structure that was probably used for ceremonies. Also around the area are 30 kivas (ceremonial structures), as well as, other residential areas. It is possible that as many as 500 people occupied this area from 1200 - 1300. The other structures in the area could have been used for celestial observatories, defensive structures, storage facilities, civil buildings, homes or any combination of the above. Starting at the Visitor Center, the trail is paved to the first overlook, which makes it wheelchair accessible.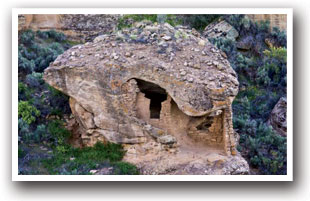 Be sure to stop by the Visitor Center, which is open from 8 AM to 5 PM. Here you will be able to sign up for interactive programs with rangers, which include patio and overlook talks. These talks can range from information about the Indian flute, how to use an atlatl (a Native American hunting weapon), or how lizards survive at Hovenweep. You will also be able to get a trail guide for the Square Tower Group trail at the Visitor Center.
Also located nearby is:
Canyons of the Ancients National Monument
Mesa Verde National Park
Directions:
From Cortez, CO: Travel southwest on U.S. Highway 160, 4 miles south and west on County Road G (airport roadway) 41 miles.
More Activities & Information
Dolores Area, Colorado includes: Mcphee Reservoir, Stoner
Mesa Verde Area, Colorado includes: Cortez, Mancos
---
National Parks and Monuments in Colorado