New Mexico National Parks
Bandelier National Monument
Think building a house is tough work? Try doing it without heavy machinery, modern tools and - in some cases - solid ground.
Bandelier National Monument preserves ancient settlements built by ancestral Puebloans between 1150 and 1550 at the base - and up the walls - of Frijoles Canyon. Using blocks of volcanic rock, a mud-based mortar and stone tools they made themselves, the Native Americans managed to build huge settlements and carve rooms several stories high into the canyon walls.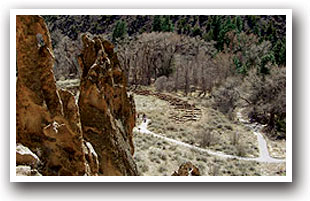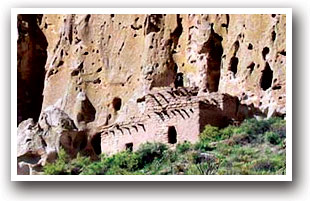 Today, visitors to the monument can get up close and personal with the Puebloans' feats of engineering. Trails throughout the monument take visitors to various excavation sites, even allowing visitors to enter the rooms, climb ladders and explore the settlements in some places.
Most visitors start with the Main Loop Trail, a 1.2-mile loop that starts at the visitor's center and travels through excavated archaeological sites, and then branch out from there. The popular Tsankawi section allows visitors to walk along the mesa, catch a glimpse of some ancient petroglyphs and wander through the remains of the village of Tsankawi.
To learn even more about the ancestral Puebloans, vacationers can stop by the visitor's center - a historic building itself, as it was a Civilian Conservation Corp project during the Great Depression - to check out three displays showcasing the Native Americans' pottery, tools and artifacts.
Other activities in the monument are more nature-oriented. Lying on the slopes of the Jemez Mountains, Bandelier is surrounded by mesas and canyons formed by volcanic eruptions more than one million years ago. Spend some time looking for wildlife - Bandelier is home to more than 16 different species of bats and lots of squirrels, lizards and mule deer - or adventure through the monument's more than 70 miles of backcountry trails, open for day and overnight trips.
Bandelier National Monument is open year round except for New Year's and Christmas days. Visit the monument's website for hours, which change seasonally - National Parks Service - Bandelier
Downloads:
Download a map of Bandelier National Monument
(Map provided by the U.S. National Park Service)
Directions:
From Santa Fe: travel north on 285 to New Mexico State HWY 502. Continue west on State HWY 502, following the signs to Bandelier and merge onto HWY 4. Look for the Bandelier Monument Entrance 11.5 miles on the left side of HWY 4.
From Taos: travel 47 miles south on NM HWY 68. In Espanola turn right onto East Paseo de Onate (N HWY 285/84) and travel 3/4 mile across the Rio Grande. Turn left onto HWY 30 (Los Alamos Hwy) and travel 8.5 miles. Bear right onto HWY 502 and travel 2 miles west. Merge onto HWY 4 and look for the Bandelier Monument Entrance 11.5 miles on the left side of the highway.
More Activities & Information
---
National Parks and Monuments in Colorado