Taos - North Central New Mexico
What is Taos? A funky art colony? A hip ski town? An outpost for Western history? It's hard to pin just one identity on this colorful town in northern New Mexico.
Taos is probably best known for its connections to the arts. The town of just 5,000 has more than 80 art galleries and six museums, is home to two major art festivals and hosts several music and film gatherings each year. Just walking down the city's streets, vacationers can't miss the many murals and sculptures artists have contributed to the town's landscape.
But Taos' art scene is often inspired by the area's other big draw - its breathtaking scenery. One of the best ways to take in Taos' beauty is on the Enchanted Circle scenic byway. The 84-mile route circles Wheeler Peak - the highest mountain in New Mexico - and passes through a variety of breathtaking stops. Visit the D.H. Lawrence Memorial in the Hondo Valley; the famous English writer spent most of the 1920s there. Or stop by the artists' colony of Questa, the western ski town of Red River or the Vietnam Veterans Memorial.
Taos' spectacular views can also be enjoyed while pursuing some of the area's many recreation opportunities. The Taos Ski Valley, one of the few family owned and operated ski resorts in North America, offers skiing in the winter and fun chair lifts in the summer. And countless biking, hiking and fishing opportunities abound.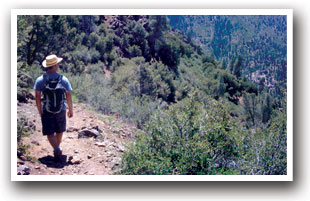 Looking for something a little tamer? Taos is also known for its many sites rich in Native American and frontier history. Taos Pueblo, a U.N. World Heritage Site and a National Historic Landmark, is made up of adobe dwellings built by Native Americans more than 1,000 years ago and thought to be the oldest continuously inhabited community in the nation. The city is also home to the San Francisco de Asis Church, made famous by Georgia O'Keefe's paintings, and the Rio Grande Gorge Bridge. Other important spots include the Governor Bent Museum and Gallery, where New Mexico's first territorial governor - Charles Bent - was killed during the Taos Uprising of 1847, and the Kit Carson Park and Cemetery, where Kit Carson and many other famous Taos citizens are buried.
Taos even has something for people who want to do absolutely nothing. Surrounded by hot springs, Taos is home to dozens of spas and resorts, where vacationers can relax in mineral waters, indulge in massages and hit the links on top-notch golf courses. Shopping and dining in Taos' many plazas and malls is also a popular activity.
So what is Taos? The eclectic, charming city is whatever vacationers want it to be... and so much more.
Taos is near: Chama, NM, Angel Fire, NM & Antonito, CO
Taos Activities & Maps
National Parks and Monuments:
Bandelier National Monument

Scenic Byways:
Enchanted Circle Scenic Byway
High Road to Taos Scenic Byway

---